Japan dispatches 970 troops to Indonesia
(Xinhua)
Updated: 2005-01-09 21:18
Japan plans to send at least 970 military troops to Indonesian westernmost province of Aceh to help rescue and restore areas devastated by the powerful earthquake and massive tsunami.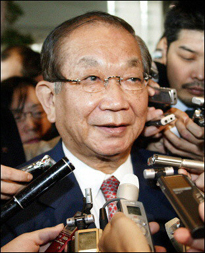 Japan will send some 1,000 military personnel to Indonesia in the country's biggest overseas deployment since World War II to help victims of the Asian tsunami disaster following defense chief Yoshinori Ono (C) signing the order. [AFP]

This was revealed by Japanese Defense Minister Yoshinori Ohno who had just concluded a meeting with Indonesian Defense Minister Juwono Sudarsono at the Mandarin Oriental Hotel here on Sunday.

"In addition to the dispatch of the military troops which may consist of that country's army, airforce and navy, Japan will also send a medical team," the visiting minister was quoted as saying by the Indonesian official news agency Antara.

According to him, the number of army personnel to be deployed to Aceh was 230 from the airforce, 640 from the navy and around 58 members of medical team and others.

That country was also reported to send one Hercules C-130 aircraft, three Sukhoi CH-47 helicopters and two Black Hawk helicopters to help the distribution of logistics to the natural disaster-stricken areas in Aceh.

Earlier, Japan had pledged to provide 500 million US dollars for humanitarian and rehabilitation program to tsunamis-battered countries in Southeast and South Asian regions.

"50 percent of the pledged aid package is channeled through the UN humanitarian agencies, and the rest is to be given through bilateral agreements," Yoshinori added.

Indonesia, hardest hit by tsunami, will reportedly receive some 130 million US dollars through bilateral agreement.

"The first program to be conducted by the troops has to do medical operation and sanitation," he said.

However, Indonesia through Jowono Sudarsono said that till now there is no such a plan to ask for additional number of foreign troops.

Those foreign troops are allowed to stay in Indonesia for humanitarian mission for three months.

Earlier, President Susilo Bambang Yudhoyono brushed aside public suspicion over the presence of foreign troops in the northern tip province of Sumatra.

"Their presence of foreign servicemen here is apolitical, they are conducting a humanitarian operation. After some time we will certainly take over the operation, but for now we are grateful for their presence," Susilo explained.

After the Dec. 26 earthquake and tsunamis, large numbers of troops from the US, Australia, Malaysia and Singapore arrived in Aceh.




Today's Top News
Top World News

Kofi Annan: 'I have never seen such utter destruction'




Wang Yi calls for better Sino-Japanese ties




People's donation via Red Cross tops гд100m




Wen urges Shenzhen to speed up growth




RMB 900m earmarked to build schools




CBRC issues risk management regulations