Scientists: Earth still shaking after quake
(Xinhua)
Updated: 2005-01-09 21:18
The Earth is still ringing like a bell about two weeks after the earthquake that shook the Indian Ocean and triggered the tsunamis in Asia, according to Australian scientists.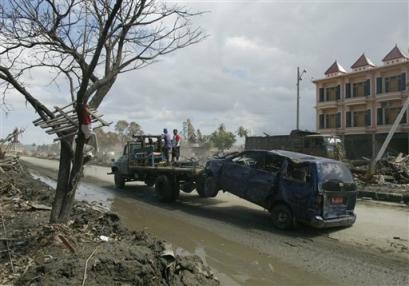 Survivors haul a badly-damaged van Sunday Jan 9, 2005 following the earthquake and tsunami which hit the area two weeks ago in Banda Aceh, the capital of Aceh province in northwest Indonesia. [AP]

Australian Broadcasting Corporation on Sunday quoted Herb McQueen from the Australian National University as saying that a gravity meter is still detecting ringing from the rare seismic event.

He said the data is being studied by scientists across the world.

"Normally a reasonably large earthquake will continue reverberating for a couple of days on our charts, but this one has been going steadily for the last 12 to 13 days and shows no signs of letting up actually," he said.

"There's still a measurable oscillation," and "I've never seen the earth ringing this long after an earthquake," he said.

The December 26 earthqake has triggered deadly tsunamis across the coast of several Southeastern Asian countries. The death toll in the tsunamis has passed 150,000 and still keeps rising.




Today's Top News
Top World News

Kofi Annan: 'I have never seen such utter destruction'




Wang Yi calls for better Sino-Japanese ties




People's donation via Red Cross tops гд100m




Wen urges Shenzhen to speed up growth




RMB 900m earmarked to build schools




CBRC issues risk management regulations