Violent rainstorm leaves north Europe in blackout, 7 killed
(Agencies)
Updated: 2005-01-09 13:56
A violent rainstorm swept across Denmark, south Sweden and Norway on Saturday afternoon, causing seven deaths and over 200,000 families in blackout.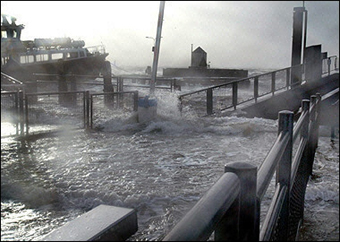 The harbor of Esbjerg, southern Jutland, Denmark, is flooded by North Sea waters. Seven people were killed and 330,000 others left without power as violent storms swept through northern Europe.[AFP]


In Sweden, two motorists were killed when trees fell on their cars. One person died when he tried to remove a fallen tree from a road and was hit by a car, local media reported.

The other four deaths were in Denmark. Two died when trees crashed onto their cars, and the others were killed when their house collapsed in the wind.

Meteorologic reports said along with the rainstorm, hurricane strength winds of up to 45 meters per second also lashed the region. The Danish weather department said it is the most fierce rainstorm suffered by the country since 1999.

About 60,000 families in Denmark, 20,000 households in Norway and 200,000 households along Sweden's south and west coasts were left without electricity.

Airport, railroad and ferry services have been halted in the Swedish area. Road traffic also came to a standstill as the bridge linking Denmark and Sweden was closed.

A few streets in Gothenburg, the second largest city in Sweden, have been flooded by the heavy rain.




Today's Top News
Top World News

Kofi Annan: 'I have never seen such utter destruction'




Wen urges Shenzhen to speed up growth




People's donation via Red Cross tops гд100m




CBRC issues risk management regulations




Asia tsunami death toll passes 150,000




Children taller than those of a decade ago