CBRC issues risk management regulations
(Xinhua)
Updated: 2005-01-09 10:36
China's banking authorities have issued two new risk management and internal control regulations for commercial banks in order to urge them to operate more efficiently and securely.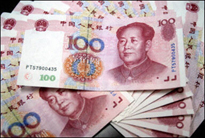 Chinese 100-yuan notes. The People's Bank of China, China's central bank, reiterated its intent to maintain the basic stability of the yuan's exchange rate at 'rational' and 'balanced' levels. [AFP]

Both regulations are based on the Framework for Internal Control Systems in Banking Organization and relevant risk management guidelines designed by the Basel Committee, according to a press release issued on Friday by the China Banking Regulatory Commission (CBRC).

The regulation on the assessment of the internal control system in the commercial banks, effective from February 1 this year, builds up a new framework to assess the efficiency of the internal control scheme of the commercial banks with updated standards and models that comply with international conventions, China Daily reported on Saturday.

The other regulation issued on Friday is a guideline on commercial banks' market risk management, the newspaper said.

The new rule clarifies that domestic commercial banks have to guarantee efficient monitoring on the board and top management behavior, scientific procedures for risk management as well as independent external audit and effective internal controls.

The CBRC will thoroughly check on all the business activities, management and supporting systems of the domestic banks, including their headquarters and local branches, and give an assessment according to the new models.

Regulators will adopt relevant measures to deal with the problems discovered in the internal control system of the banks, such as suspension of certain businesses and even the dismissal of the responsible executives.

Compared with advanced international banks, domestic banks still have a lot of catching up to do in terms of risk management, China daily citing a CBRC spokesman as saying.

The occurrence of a series of major financial crimes in domestic banks in recent years shows that there is still major flaws in the internal control system of these banks and that supervision is insufficient, the spokesman noted.

Hopefully the new regulations will lay a basis for the formation of sound internal control and risk management schemes in domestic banks and ensure their healthy and steady development, the CBRC spokesman said.




Today's Top News
Top China News

Kofi Annan: 'I have never seen such utter destruction'




No change for residential power prices




China cracks down on phone sex




Wen urges Shenzhen to speed up growth




Asia tsunami death toll passes 150,000




Children taller than those of a decade ago