People's donation via Red Cross tops гд100m
(Xinhua)
Updated: 2005-01-09 10:36
The Red Cross Society of China said Saturday that as of Saturday's noon it had received more than 100 million yuan (US$12 million) of donation from ordinary Chinese people who are greatly concerned over the tsunami victims in some South and Southeast Asian nations.
A couple who refused to give their names made the largest contribution of 5 million yuan (US$600,000) Friday, said Wang Xiaohua, spokesman of the Red Cross.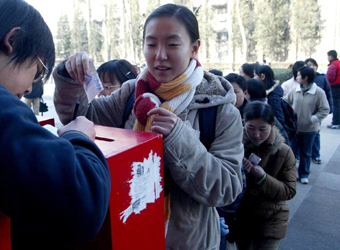 Peking University student An Yingzhi makes a donation to tsunami-hit nations at her campus Jan. 2, 2005, as did hundreds of other students and teachers. During the New Year holiday, people across China have been digging deep to help their fellow human beings in vital need of aid. [newsphoto]


The first US$2 million of donation collected had been given to Indonesia, Sri Lanka, Thailand and Maldives. Additional relief materials including medicine, pure water and clothes would be airlifted to the disaster-hit countries soon, the spokesman said.

Three Chinese medical teams are now working in some of these countries and more are ready to go there at any time, Wang said.

The Industrial and Commercial Bank of China, China's biggest bank, has donated 1 million yuan (US$120,000) to the tsunami-hit Asian countries via the Red Cross, a bank spokesman said Saturday.

The bank, in which the Red Cross opened a special account for donators, has promised to go all out to offer donators sound financial service.

The State Development Bank has so far donated US$1.8 million to the tsunami-hit countries, the current largest sum among social institutions who have donated to help tsunami victims.




Today's Top News
Top China News

Kofi Annan: 'I have never seen such utter destruction'




Wang Yi calls for better Sino-Japanese ties




People's donation via Red Cross tops гд100m




Wen urges Shenzhen to speed up growth




RMB 900m earmarked to build schools




CBRC issues risk management regulations