Kofi Annan: 'I have never seen such utter destruction'
(Xinhua)
Updated: 2005-01-09 08:46
"I have never seen such utter destruction mile after mile," said UN Secretary-General Kofi Annan Friday in Indonesia's tsunami-battered Sumatra island.
"You wonder where are the people? What has happened to them?" he asked rhetorically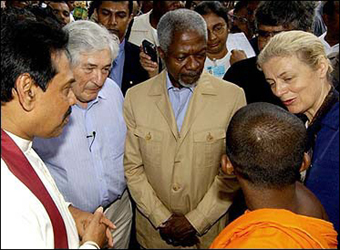 Sri Lankan Prime Minister Mahinda Rajapakse (L), World Bank president James Wolfensohn (2nd L), UN Secretary General Kofi Annan (2nd R) and his wife Nane (R) listen to the head monk of the Galewalla Buddhist Temple during their tour of the tsunami devasted southern Sri Lankan town of Hambantota. [AFP]


Annan was in Sumatra to see the worst destruction caused by the earthquake and tsunami on Dec. 26.

He flew over the island's west coast -- the worst hit area in a Singaporean helicopter, and drove through the main area of Banda Aceh.

Twelve days after the disaster, relief workers were still seen trying to come to terms with the scale of the killer waves. With tens of thousands still missing and threatened by disease, the number of dead is expected to keep climbing.

Annan attended a summit of world leaders in Jakarta on Thursday on the aftermath of the disaster.

At the summit, Annan said the tsunami death toll will be likelyover 150,000 and there is an immediate need for the disaster survivors.

Annan said that about 977 million US dollars was immediately needed to cover humanitarian emergency needs for 5 million tsunami disaster survivors over the next six months.

"We must set the stage for efforts in the longer term, as we move from saving lives to recovery and reconstruction," Annan said.

He said over 3 billion dollars has been pledged, calling for a quick turn of the pledges into cash.

"Many of the pledges have come to us in cash and in kind. We need the rest of the pledges to be converted into cash quickly," he said.

"We also need more people and more materiel to get the aid to those who are most in need, often in remote areas."

In response to the call for a future tsunami warning system, which is to be discussed at the meeting, he said, "Although we were powerless to stop the tsunami, together we have the power to stop those next waves."

Meanwhile, the death toll in Indonesia increased to 98,000 people, and more than a half million others were refugees, according to the Social Ministry Friday.

The number of death toll would increase as there are still many bodies unfound among the ruins, the ministry said.




Today's Top News
Top World News

Kofi Annan: 'I have never seen such utter destruction'




Asia tsunami death toll passes 150,000




Former CPC leader Song passes away




US relaxes visa requirements for biz, tourism




US bomb error kills at least 5 Iraqis




Beijing population tops 15 million