Indonesia praises Chinese aid, commitment
By Zhao Huanxin (China Daily)
Updated: 2005-01-08 01:33
China's aid contributions and commitments to Indonesia are helping solve immediate disaster relief needs and leading to long-term rehabilitation efforts in the tsunami-battered country, officials said on Friday.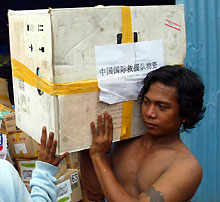 Workers carries relief supplies sent from China on January 7, 2005. [Xinhua]

Meanwhile, ethnic Chinese communities have set up a disaster-relief centre to collect additional funds and help distribute relief materials.

"The commitment from China has been very generous, and China is helping in many ways, not just in funding, but in more specific areas, for instance providing a field hospital," Indonesia's Minister of Trade Mari Pangestu told China Daily.

The minister was referring to a temporary medical facility a Chinese rescue team set up in Banda Aceh, capital of Aceh Province, which was worst hit by the December 26 tsunami.

With the one facility vitally needed and welcomed in the afflicted area, the Indonesian Health Ministry on Friday requested visiting Chinese Vice-Foreign Minister Wu Dawei to put four more such field hospitals in place, according to Pangestu.

Though China's pledge of funds is not as large as some countries, it has been timely and life-saving.

"China is a developing country... I think it is not the amount that matters but the sincerity of the efforts," said Pangestu. "The fact that Premier Wen Jiabao himself came (to an emergency summit on aftermath of earthquake and tsunami), I think, is very highly appreciated."

The premier said on Thursday China is committed to reconstruction and long-term development of the affected countries.

Wen promised at Thursday's meeting China will be doing its very best to help the countries, including writing-off or reducing government debts, encouraging Chinese firms to rebuild infrastructure, and helping set up quake-monitoring networks.

Minister Pangestu said the tsunami early warning system, badly needed for the Indian Ocean, is another way China can help -- China has expertise and experience in calamity monitoring forecast, she said.

Indonesian Department of Foreign Affairs spokesman Yuri Thamrin on Friday said Indonesia's reconstruction and rehabilitation will be a long process that may cost up to 10 years.

He said Indonesia thanked China for its help, quoting a saying: "A friend in need is a friend in deed."

Asked about reported robbery cases fell upon ethnic Chinese people in Aceh, Pangestu said she just came back from Aceh, and found the reports were just rumours.

Talking about relief work initiated by local Chinese communities, the minister said they have made a lot of efforts to raise funds that will be used to help the relief and the long-term rehabilitation in Aceh and North Sumatra provinces.

At least 40 leading ethnic Chinese associations on Friday formed a disaster-relief centre here, to facilitate the flow of donations to destinations, according to Eddie Lembong, chairman of the Chinese Indonesian Association.

Indra Wahidin, vice-chairman of the North Sumatra Province Red Cross Society, said the unified relief centre could help gather otherwise scattered donations to focus on the needs of the hardest affected.

"Donations raised by ethnic Chinese in Indonesia will surely go to disaster victims of other ethnic groups in Indonesia," said Wahidin, who flew to Jakarta to introduce North Sumatra's relief experience to the newly established centre.

A major task of the relief centre is to help the government speed up distribution of aid materials that have been pouring in but piled up at ports, he said.

Over the past few days, relief centres run by ethnic Chinese in Medan, capital of North Sumatra, have sent batches of aid materials to Aceh, where Chinese victims are relatively fewer, because most have been evacuated to Medan, he said.

Ted Sioeng, who runs the International Daily News, a Chinese-language newspaper in Indonesia, said on Friday his paper has been making appeals for more donations.

Chinese Ambassador to Indonesia Lu Shuming said on Friday his embassy had so far not found any Chinese victims of the tsunami, either from the mainland, Hong Kong, Macao or Taiwan.




Today's Top News
Top China News

Indonesia praises Chinese aid, commitment




7,000 more bodies discovered in Indonesia




RMB 105 million raised from civilian donations




Residential power prices to remain unchanged




Eight die, 240 hurt in US train crash




Beijing population tops 15 million