Koizumi's party calls for continued shrine visit
(Agencies)
Updated: 2005-01-07 00:22
Japan's ruling party is to urge its members to keep visiting a Tokyo shrine for the war dead, even though such visits have angered China and other Asian neighbours.
A draft policy platform for Prime Minister Junichiro Koizumi's ruling Liberal Democratic Party (LDP) does not specifically mention Koizumi's visits to Yasukuni shrine, where war criminals are honoured among Japan's war dead.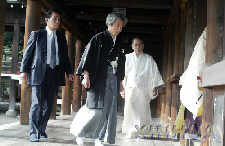 Japanese Prime Minister Junichiro Koizumi visited Tokyo's Yasukuni shrine on New Year's Day of 2004. [Xinhua/file]

But it says LDP members should continue to pay respects at the shrine to "thank from the heart and sincerely offer condolences" to those killed in war.

The annual policy platform used similar language last year.

The party is expected to formally adopt the programme at a convention on Jan. 18, an official its headquarters said on Friday.

Koizumi's annual visits to the shrine have sparked protests from China, South Korea and other Asian areas where many still resent Japan's invasion and occupation of parts of the country from 1931 to 1945, and caused a chill in Sino-Japanese relations.

Besides Koizumi, dozens of other Japanese politicians visit the shrine every year.

Seventy-nine lawmakers including LDP secretary-general Tsutomu Takebe and senior opposition lawmaker Tsutomu Hata visited the shrine on Oct. 19 during an annual autumn festival.

Three cabinet ministers paid homage at the shrine on Aug. 15, the anniversary of Japan's World War Two surrender.

Such visits are a sensitive issue for Asian countries that suffered from Japan's wartime aggression.

They are also controversial because 14 "Class A" war criminals convicted by an Allied tribunal in 1948, including wartime Prime Minister Hideki Tojo, are enshrined in Yasukuni along with Japan's 2.5 million war dead.




Today's Top News
Top World News

Indonesia praises Chinese aid, commitment




Death toll from tsunami climbs to 147,000




US relaxes visa requirements for biz, tourism




Koizumi's party calls for continued shrine visit




Beijing population tops 15 million




No change for residential power prices