Eight die, 240 hurt in US train crash
(Agencies)
Updated: 2005-01-07 23:00
GRANITEVILLE, S.C. - A freight train carrying chlorine gas struck a parked train early Thursday, killing eight people and injuring more than 240 others, nearly all of them sickened by a toxic cloud that persisted over this small textile town at nightfall.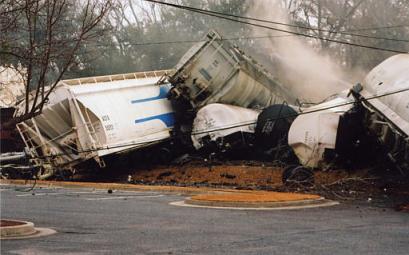 Chemicals leak from the tanks of a derailed train in Graniteville, S.C. Thursday Jan. 6, 2005. [AP]

Authorities ordered all 5,400 people within a mile of the crash to evacuate in the afternoon because chlorine was continuing to leak and the gas was settling near the ground as temperatures dropped. They were unsure when the gas leak might be sealed.

State Sen. Tommy Moore said Thursday night that officials at Avondale Mill, the textile plant where the crash happened, told him eight people were found dead following the accident, including five inside the mill.

Eight others were in critical condition Thursday night after the 2:30 a.m. wreck of Norfolk Southern trains, in which 16 cars derailed.

Moore said he was told all the deaths were caused by inhaling chlorine fumes, except for the engineer of the moving train, who died in the crash. Sheriff's Lt. Michael Frank said one person was found dead in a home and another was found in a vehicle. Autopsies were scheduled Friday.

Most of the injured were treated for respiratory ailments and released, but at least 45 people were admitted to hospitals, authorities said.

Residents were jarred awake Thursday by the sound of metal dragging and a house-shaking boom. A chemical fog lay over the crash site when Douglas Brown drove there after hearing the wreck from his home two streets away.

"You could smell it real good. It made your tongue numb, your throat get sore and your eyes get dry," said Brown, 44, who was among those treated.

Authorities convinced all but about a dozen people in the area to evacuate, and set up shelters for evacuees. Gov. Mark Sanford declared a state of emergency for Aiken County.

Sixteen-year-old Natasia Grant was among about 70 people who had taken refuge at a shelter at the University of South Carolina-Aiken. She said the air still smelled like "a pool, but stronger" more than 12 hours after the crash.

"My eyes were burning and turning red," she said.

The potentially fatal gas can damage the respiratory and central nervous systems, and the throat, nose and eyes. Those who were exposed were told to report to decontamination units at two schools.

Three of the 42 cars on the moving train were carrying chlorine, Norfolk Southern spokesman Robin Chapman said. He didn't know how many of the cars were damaged.

No one was aboard the parked train. One person was injured and trapped inside her car for two hours when a tree felled by a train car hit the vehicle, Frank said. Her condition and those of the crew members were unavailable.

Before the evacuation, nearby residents were told to stay inside their homes. Textile plants and schools in the area closed, and a 6 p.m.-to-7 a.m. curfew was imposed on Graniteville, about 15 miles northeast of Augusta, Ga.

Two other hazardous materials, cresol and sodium hydroxide, were being carried on the train in liquid form, but were a less immediate concern because they are corrosive only in direct contact, said Thom Berry, spokesman for the Department of Health and Environmental Control. It was not known Thursday afternoon if either liquid spilled.

The National Transportation Safety Board and Federal Railroad Administration sent investigators to the accident, but toxic gas had kept them reaching the site Thursday, NTSB spokesman Keith Holloway said.




Today's Top News
Top World News

Asia tsunami death toll passes 150,000




Indonesia praises Chinese aid, commitment




US relaxes visa requirements for biz, tourism




Koizumi's party calls for continued shrine visit




Beijing population tops 15 million




No change for residential power prices