Italy train crash kills about 10 - Police
(Agencies)
Updated: 2005-01-07 22:55
BOLOGNA, Italy - A passenger train and a freight train crashed in fog-shrouded countryside in northern Italy on Friday, killing at least 10 people and injuring more than 50, authorities said.
One of the trains' locomotives derailed in the violent impact, while another carriage was thrust into the air and came to rest on another part of the other train, television pictures from the scene showed.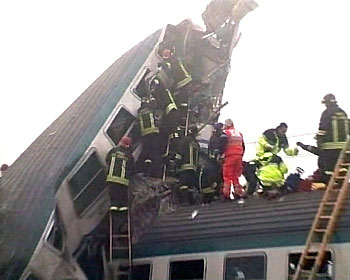 A video grab shows rescue teams operating on a wrecked wagon after a train crashed between two small towns north of Bologna, Italy, January 7, 2005. [Reuters]
Rescue workers and emergency services battled time and fog to get close to the wreckage, strewn on a field between two small towns north of Bologna.
Carabinieri police and an official from Bologna's Maggiore hospital said about 10 people were killed when the two trains collided. They were traveling on the same track between two stations on the plains north of Bologna.
More than 50 people were injured, at least three of them seriously, the officials said.
An Italian railway statement said the accident involved an inter-regional passenger train traveling from Verona to Bologna and a freight train. They crashed between the towns of Crevalcore and Camposanto.
Fire brigade officials said the thick fog in the plains at the time of the accident had made it difficult to bring cranes close to the track.
Today's Top News
Top World News

Indonesia praises Chinese aid, commitment




Death toll from tsunami climbs to 147,000




US relaxes visa requirements for biz, tourism




US$12.7m raised from civilian donations




Beijing population tops 15 million




No change for residential power prices