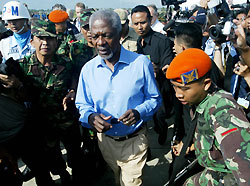 U.N. Secretary-General Kofi Annan is escorted by Indonesian soldiers as he arrives at an airport in the tsunami-hit city of Banda Aceh on the Indonesian island of Sumatra January 7, 2005. [Reuters]

Twelve days after the tsunami hit, Annan and World Bank President James Wolfensohn flew over the island's west coast in a Singaporean helicopter and then drove to the shattered port of the main town of Banda Aceh, where families picked through piles of rubble two metres high. The stench of rotting bodies hung in the air.

"I have never seen such utter destruction mile after mile," a shaken Annan told reporters afterward. "You wonder where are the people? What has happened to them?"

Relief workers were still trying to come to terms with the scale of the December 26 earthquake and killer waves that hit 11 nations. With tens of thousands and still missing and threatened by disease, the United Nations said the number of dead would keep climbing.

UN humanitarian chief Jan Egeland said in New York: "The 150,000 dead figure is a very low figure. It will be much bigger."

A report says the death toll from the disaster, meanwhile, jumped to 160,000 in 11 nations on Friday after Indonesia's Ministry of Social Affairs increased its toll from 94,200 to 113,306.

Hardest hit was Sumatra, which was closest to the 9.0 magnitude quake, where all of Indonesia's some 100,000 death's occurred.

The country uncovered thousands of bodies in and around the shattered coastal town of Meulaboh, which was cut off from the rest of Sumatra for days because roads were swept away and sea jetties destroyed.

Annan's visit came after he attended a summit of world leaders in Jakarta on Thursday on how to turn one of history's largest-ever aid packages -- nearly US$4 billion in pledges -- into food for the hungry and shelter for the homeless.

The UN chief urged nations to come up immediately with their promised aid, and to break with past practices of pledging much and delivering little.

Australia leads the world with a total aid pledge of US$810 million, followed by Germany, Japan and the United States.

Private donations were also pouring in. A telethon in Saudi Arabia raised US$67.4 million in 11 hours: with donations ranging from diamonds to tents and blankets. In Norway, four young girls sold their Christmas presents, raising nearly 6,000 kroner (US$1,000).

Meanwhile, US Secretary of State Colin Powell arrived in Sri Lanka, where more than 30,000 people died, to inspect tsunami-devastated areas in the south and hold talks on relief efforts with the government.

British Foreign Secretary Jack Straw, who toured the Thai holiday destination of Phuket on Friday, indicated that the number of Britons who died could double from his government's earlier estimate.

While some areas remained scenes of total devastation, other Thai resorts were looking to the future. Cleanup on several beaches is almost complete and tour operators were eager to get back to business.

"It's amazing how fast things have gone back to normal. The Thais have done a brilliant job of organizing disaster efforts and getting things cleaned up," said Peter Elsey, an English tourist who lives in Singapore and owns a house in Phuket.