7,000 more bodies discovered in Indonesia
(Agencies)
Updated: 2005-01-07 20:29
BANDA ACEH, Indonesia - U.N. Secretary-General Kofi Annan described the devastation on tsunami-battered Sumatra island Friday as the worst he's ever seen, and authorities raised Indonesia's death toll by 7,000, bringing the overall total killed by the disaster to more than 147,000.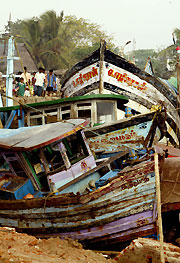 Tsunami survivors pass damaged fishing boats in Nagapattinam, 350 km (219 miles) south of the Indian city of Madras January 7, 2005. [Reuters]

Twelve days after the tsunami hit, Annan and World Bank President James Wolfensohn flew over the island's west coast and later drove around the shattered coastal town of Meulaboh, where families picked through piles of rubble six feet high.

"I have never seen such utter destruction mile after mile," a shaken Annan told reporters. "You wonder where are the people? What has happened to them?"

Hardest hit was Sumatra, which was closest to the epicenter of the 9.0 magnitude quake, and where officials on Friday counted about 7,000 additional bodies ! mostly in Meulaboh, which had been cut off by washed-out roads ! raising Indonesia's toll to 101,318.

That raised the overall death toll from the Dec. 26 earthquake and tsunami to 147,531.

Indonesian military spokesman Ahmad Yani Basuki said the sharp increase was largely due to volunteers helping to recover bodies. "There was an incredible spike in the death toll," Basuki said. "A good deal of it was from Meulaboh."

With tens of thousands still missing and threatened by disease from the powerful waves that hit 11 nations, the United Nations said the death toll would keep climbing.

"I think we have to be aware that very, very many of the victims have been swept away and many, many will not reappear," U.N. humanitarian chief Jan Egeland said in New York. "The 150,000 dead figure is a very low figure. It will be much bigger."

Security concerns for foreign aid workers emerged. The South Korean government asked its aid workers, some of them affiliated with Christian groups, not to engage in religious activities that could provoke Islamic radicals.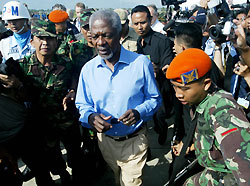 U.N. Secretary-General Kofi Annan is escorted by Indonesian soldiers as he arrives at an airport in the tsunami-hit city of Banda Aceh on the Indonesian island of Sumatra January 7, 2005. [Reuters]

Also, in an apparent sign that American relief agencies want to keep a lower profile, several trucks delivering supplies from U.S. AID removed large banners marking the source of the shipments.

Japan ordered nearly 900 troops to help with relief efforts, ordering ground and naval forces to leave next week for Indonesia and Thailand. Tokyo already has deployed three ships, 40 air force personnel and several teams of medical, rescue and forensics experts.

Annan's visit came after he attended a summit of world leaders in Jakarta on Thursday on how to turn one of history's largest-ever aid packages ! nearly $4 billion in pledges ! into food for the hungry and shelter for the homeless. Before traveling to Sri Lanka to tour damage there, the U.N. chief urged nations to come up immediately with their promised aid and to break with past practices of pledging much and delivering little.

Secretary of State Colin Powell arrived in Sri Lanka, where more than 30,000 people died, to inspect tsunami-devastated areas in the south and hold talks on relief efforts.

"I had a chance to witness the destruction firsthand, and only by seeing it on the ground can you really appreciate what it must have been like on that terrible day," he said. "But I am impressed to see people cleaning up, helping their neighbors."

While some areas in Thailand remained scenes of total devastation, other Thai resorts were looking to the future. Cleanup on several beaches was almost complete and tour operators were eager to get back to business.

"It's amazing how fast things have gone back to normal. The Thais have done a brilliant job of organizing disaster efforts and getting things cleaned up," said Peter Elsey, 48, an English tourist who lives in Singapore and owns a house in Phuket.

Elsewhere in Thailand, though, officials said more than 500 migrant workers were being deported for looting tsunami-damaged buildings. Maj. Vachara Sangvorayothin said an "army of Burmese workers are on a stealing spree."

In Indonesia, some aid officials were reviewing their security precautions after the arrival of some 80 members of a radical Islamic group. The group, Laskar Mujahidin, accused of taking part in Muslim-Christian fighting in another part of Indonesia between 1999 and 2001, has set up a relief camp ! but said it was only there to help.

"We are not here to fight, we've come to help. We've got no problem with the foreigners as long as they have no hidden agenda," said group leader Salman Alfarizi.

Indonesian military spokesman Ahmad Yani Basuki said the group was not seen as a threat. "There is no need to keep a special eye on them," he said.

While armed guards have been posted at a U.N. compound in Banda Aceh, officials said they were part of normal security for such a relief operation. But a U.S. official in Aceh said American forces helping the relief effort were aware of Laskar Mujahidin's presence and were keeping a close eye on it.

India's finance minister, meanwhile, said his country was open to accepting international aid, a departure from the country's long-held stance of refusing outside help.

Minister P. Chidambaram said India is fully capable of providing short-term emergency aid to its citizens but needs help with the more expensive reconstruction stage. Almost 10,000 people died from the floods in India.

Muslims in Banda Aceh performed Friday prayers at the main mosque for the first time since it was used as a morgue in the aftermath of the tsunami, sitting cross-logged on its marble floor as the preacher said the disaster may have been punishment from Allah for "forgetting him and his teachings."

The smell of rotting corpses, thousands of which are still uncollected, wafted through the five-domed Baituraman mosque, which dates to 1614. Thousands of troops and volunteers from around Indonesia have been working to clean up the grounds.

"We Muslims are gathered here today to show the country and the world that we still exist," preacher Din Syamsuddin told around 2,000 worshippers at the mosque in the city, the capital of Aceh province.

Many of the mosques that are still standing in the staunchly Islamic province on the northern tip of Sumatra Island now serve as refugee camps and emergency health clinics.




Today's Top News
Top World News

Indonesia praises Chinese aid, commitment




Death toll from tsunami climbs to 147,000




US relaxes visa requirements for biz, tourism




US$12.7m raised from civilian donations




Beijing population tops 15 million




No change for residential power prices