Ten faces of 2004's economy
(China Daily)
Updated: 2005-01-07 08:15
As has been the case since 2000, a list of the Chinese economy's "Magnificent 10" was announced on New Year's Eve.
The event was sponsored by China Central Television (CCTV)'s Economy 30 Minutes. A panel of 13 economists, entrepreneurs and journalists who specialize in economics took charge of preparing a list of 60 candidates for the public to vote for on the CCTV website.
Once polling closed, the number was trimmed to 20, who became the "official" candidates.
The final round of online voting was then held, to decide the top 10.
According to organizers, by Christmas Day - the deadline for the final ballot - more than 25 million votes had been cast, more than in previous years.
There were an additional 380,000 SMS votes.
'Auditing Storm'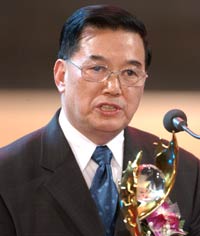 Li Jinhua. [newsphoto]

Among the "Magnificent 10" of 2004, Li Jinhua, auditor-general of the National Audit Office (NAO), topped the list by winning nearly 2 million votes.

Li spearheaded what the press has been calling the "auditing storm," which developed last year into an attempt to smash corruption.

In a report submitted on June 23 to the Standing Committee of the National People's Congress (NPC), China's top legislature, the NAO exposed a range of "economic irregularities" that it had discovered the year earlier by auditing several dozen government departments and large State-owned enterprises.

According to the report, public money that ran into many billions of dollars had been misused or misappropriated.

The report was applauded nationwide, and Li, who spearheaded the assault, naturally became a prominent figure.

Speaking at the soiree, Li admitted that NAO staff had hesitated before deciding to report the cases to the NPC for fear of "making too many enemies."

"It was the sense of responsibility to the nation and the people that prompted us to pluck up the courage to do so," he said.

Speaking of the future, Li responded by saying: "I'm speaking on behalf of all the 80,000 men and women working in auditing offices across the country when I say 'We won't let you down.'

"The 'auditing storm' will continue."

Ma Yun, chief executive officer (CEO) of the Hangzhou-based Alibaba Networking Technology Co in Zhejiang Province, was honoured for his contribution to the development of e-commerce within China.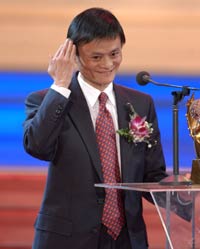 Ma Yun [newsphoto]
A former teacher of English in the eastern Zhejiang Province, Ma started the country's first e-commerce website - www.china.alibaba.com - in 1998.
In just six years, it has become the leader in its field, serving well over 50,000 member traders in 200 countries and regions, with an annual business turnover amounting to about US$10 billion.
Heaven stands by iron-willed men
Ma's story seems legendary.
"The first few years were pretty good for us," he recalled.
"In 2001 and 2002, however, the so-called 'Internet bubble' exploded and because of that, staying alive became our top concern."
Despite the adversity, Ma did not give up his ambition of turning the company into the greatest of its kind in the world.
"I believe in the Chinese proverb 'Heaven stands by iron-willed men,'" he told the audience.
"Heaven," so to speak, did come to his rescue between late April and early July of 2003 when the SARS (severe acute respiratory syndrome) outbreak hit China.
"For a time, travel, visits and conferences had to be cancelled.
"Suddenly, business people realized that transactions could be negotiated and concluded via the Internet and that business people did not have to meet face-to-face. Alibaba boomed overnight," Ma said.
In 2003, Alibaba generated an average of 1 million yuan (US$121,000) per day in turnover.
Since the beginning of 2004, it has yielded a daily average of 1 million yuan in net profit.
For 2005, "the company aims at paying 1 million yuan in taxes per day, leaving a net profit of at least 2 million yuan (US$241,800)."
Asked about the secret of his success, Ma cited the famous tale about the race between the tortoise and the hare, where the former won.
To be successful in this world, he said, "you must combine the merits of both: the speed of the hare and the endurance and willpower of the tortoise."
In 2004, Alibaba invested US$84 million in business expansion, mainly in overseas operations.
Alibaba is not the only Chinese business that has begun to develop itself overseas, or "go global."
Yang Yuanqing, president and CEO of Lenovo Group Ltd, was recognized due to his company's success in going global by acquiring IBM's personal computer division to form the third-largest PC business in the world.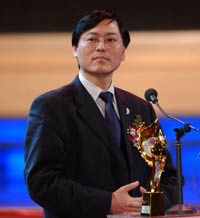 Yang Yuanqing [newsphoto]

That came on December 7, in Beijing, when Lenovo and IBM made public an agreement under which Lenovo had to pay US$1.25 billion in cash and equity.

"The deal is just a part of our effort to go global," Yang said.

"Another part is to invest in the 2008 Beijing Olympics as an Olympic partner. That may cost us up to half a million dollars."

Lenovo's acquisition of IBM's PC manufacturing and marketing arm caused a sensation around the world.

Going global

"I'm going to take up the greatest challenge in my life," Yang said, referring to the difficulties he is now facing in the wake of the acquisition.

"But I believe challenges are bound to generate opportunities."

Like Yang, Mai Boliang, president of China International Marine Containers (Group) Ltd (CIMC), was also honoured for his company's overseas endeavours.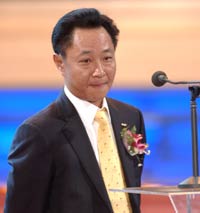 Mai Boliang [newsphoto]
Year after year, since 1996, CIMC has ranked as the world's top container manufacturer in terms of output and sales.
It now has a 40 per cent market share in the international container business and a 50 per cent market share in the refrigerated container market.
Other business and industrial VIPs honoured for success in going global included:
- Hu Maoyuan, president of the Shanghai Automotive Industry Corp (Group).
On October 28 last year, the group acquired 48.9 per cent equity of a leading automobile manufacturer in the Republic of Korea, to take 461st place on the US Fortune list of the world's top 500 companies.
- Hou Yonggui, board chairman of Zhongxing Communications Co, based in Shenzhen, South China.
With start-up capital of just a few thousand yuan, Hou launched a business in 1985, one year after Shenzhen - then just a fishing village in the nation's south - was designated as one of the first four special economic zones.
Last year, his company generated US$1.5 billion from overseas sales alone.
- Li Dongsheng, board chairman and president of TCL, a leading manufacturer of domestic appliances.
He was honoured for the company's success in developing new and better products by using the latest technologies.
Trailblazing
At 62, Guo Guangchang, general manager of China Life Insurance (Group) Co, was honoured because at the end of 2003, China Life became the first mainland insurer to get listed in Hong Kong and New York.
With assets valued at 400 billion yuan (US$48.36 billion), it was, 12 months later, recognized as the most powerful company in China's financial sector and already on Fortune's top 500 list.
Born in 1971, Ma Huateng, president and CEO of Tencent Computer System Co Ltd, based in Shenzhen, is the youngest among the "Magnificent 10" for 2004.
Shortly after graduating from Shenzhen University in 1993 with a major of software engineering, he started an area network with five computers.
Now, Tencent is the greatest Chinese provider of online entertainment, with 350 million subscribers to its QQ services including online chatting and paging.
In June last year, the company was listed on the Hong Kong Stock Exchange, with assets valued at around HK$900 million (US$124 million).
Zhou Xiaochuan, president of the People's Bank of China, the country's central bank, made the top 10 but was not able to attend the gala presentation, due to work.
The Chinese Consumers's Association (CCA) received the annual Social Welfare Award, which was also presented on the night.
According to Dong Jingsheng, deputy secretary-general of CCA, the association has focused on wrongdoings within the railway, banking, electric, telecommunications and several of the other "monopoly industries."
Today's Top News
Top China News

Premier Wen proposes more aid and co-operation




Strategic oil reserves to be filled next year




China urges US to lift sanctions




1.3 billionth citizen welcomed in mixed mood




Ten faces of 2004's economy




WB: China's economy faces challenges