Iraq extends emergency laws for elections
(Agencies)
Updated: 2005-01-07 08:13
Iraq's U.S.-backed government said on Thursday it was extending emergency powers equivalent to martial law for a further 30 days to try to safeguard Jan. 30 elections under threat from deadly attacks by insurgents.
The state of emergency, first imposed in November ahead of a major U.S. assault on the rebel stronghold of Falluja west of Baghdad, would stay in effect into February, Prime Minister Iyad Allawi's government said in a statement.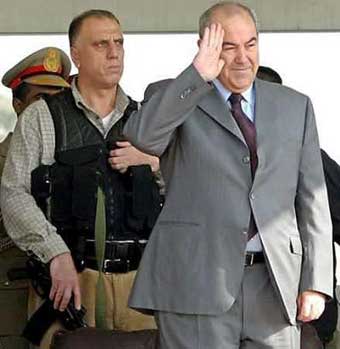 Iraq's Interim Prime Minister Iyad Allawi salutes as he stands next to a bodyguard during a military parade north of Baghdad, January 6, 2005. Iraq's U.S.-backed government said on Thursday it was extending emergency powers equivalent to martial law for a further 30 days to try to safeguard Jan. 30 elections under threat from deadly attacks by insurgents. [Reuters]

Emergency powers allow the government to impose curfews, close borders and airports and detain suspects without following normal legal procedures. The emergency applies to all regions of Iraq except the Kurdish north, which has been relatively stable.

"Since terrorist gangs continue their activities to prevent the creation of a broad representative government and try to impede peaceful political participation of all Iraqis, we have decided to extend the state of emergency in all areas of Iraq except the region of Kurdistan for 30 days," Allawi said.

In a grim reminder of an insurgency raging nearly 22 months after a U.S.-led invasion, police found the bodies of 18 Iraqi Shi'ites captured and killed last month on their way to work at a U.S. base in the volatile northern city of Mosul.

The U.S. military said seven American soldiers were killed on Thursday when their Bradley Fighting Vehicle hit an explosive device during a routine security patrol in northwestern Baghdad.

Earlier on Thursday a U.S. Marine was killed in action in the al-Anbar province west of Baghdad.

Iraqi police also said a female French journalist had been missing since Wednesday and may have been kidnapped. French newspaper Liberation said the journalist was Florence Aubenas, who had been working for the paper in Iraq since December.

Her disappearance came just weeks after the release of French journalists Christian Chesnot and Georges Malbrunot, who were kidnapped in Iraq on Aug. 20.

BOYCOTTS AND MISGIVINGS

Violence in the heartland of Saddam Hussein's Sunni minority has impeded preparations for the elections there and many Sunni groups are boycotting them, saying unrest and intimidation will prevent people from voting.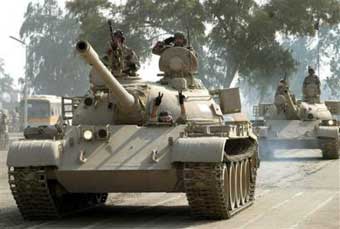 Iraqi army tanks roll past Iraqi Interim Premier Ayad Allawi, not seen, during a military parade at the al-Taji base, north of Baghdad, Iraq, Thursday, Jan. 6, 2005. [AP]

Lt.-Gen. Thomas Metz, No. 2 commander of U.S.-led forces, said delaying the poll could risk provoking civil war and urged Sunnis to vote in large numbers.

The country's 60 percent Shi'ite majority, long oppressed during Saddam's rule, is expected to cement its newfound political dominance in the elections. But Sunni leaders say the insurgency -- which is strongest in Sunni areas -- will only strengthen if Sunnis feel disenfranchised.

Metz said any postponement would play into the hands of "thugs and terrorists" bent on stopping the vote.

"I think there is a greater chance of civil war with a delay than without one, in my military opinion," he told a news conference in Baghdad. Many Iraqis believe putting off the vote would enrage Shi'ites.

The United Nations envoy to Iraq, Ashraf Qazi, added his own voice in favor of the elections going ahead as scheduled.

Speaking in Amman, Qazi said the Jan. 30 ballot was to pick a National Assembly to draft a new constitution but Iraqis would have more chances later to exercise their democratic rights.

Iraqis would go back to the polls in October to vote in a referendum on the new constitution and again in December in a general election to chose a new government, he said.

"If in this election, for any reason, turnout in certain areas is less than what is desired, hopefully as a result of the improvement of the security and political situation, the December elections will have a very healthy turnout," he told Reuters in an interview.

SURGE IN ATTACKS

Metz predicted escalating attacks in the election run-up and said voting places would likely be targeted on election day.

He pledged the U.S. military would do everything possible to help fledgling security services protect voters but said they could not "put a bubble around every person going out to vote."

On Wednesday, suicide bombers killed 21 people in attacks on an Iraqi police academy in the town of Hilla, south of Baghdad, and a checkpoint in Baquba northeast of the capital.

The attacks were the latest by insurgents who have killed more than 90 people, mostly policemen, this week alone in a campaign targeting the U.S.-backed interim government and its emergent security services.

In Washington, the U.S. government said Iraq's struggling security forces have had mixed results against insurgents and the United States was examining if more funds were needed.

The administration's quarterly update to Congress on Iraq said attacks against Iraqi security forces had increased at all levels in recent months and intimidation made retention of military and police tough in many areas.

"While Iraq's security forces have shown considerable progress during this last quarter, the overall performance of these forces has been mixed when put to the test," said the report, obtained by Reuters.

Insurgents regard security force members, politicians and any Iraqi working with U.S.-led forces as collaborators with a foreign occupier, and have marked them for death.

The violence has raised misgivings in Iraq's interim government, with some leaders including President Ghazi al-Yawar openly worried about whether a meaningful poll could be held.





Today's Top News
Top World News

Premier Wen proposes more aid and co-operation




Strategic oil reserves to be filled next year




China urges US to lift sanctions




China backs UN leading role in relief




1.3 billionth citizen welcomed in mixed mood




Nine American troops killed in Iraq