Strategic oil reserves to be filled next year
(Agencies)
Updated: 2005-01-07 02:01
China, the world's second-biggest oil consumer after the United States, is likely to start filling strategic oil reserves next year in order to ensure a stable and rapid growth of the world's fastest growing economy, a senior economic official said on Thursday.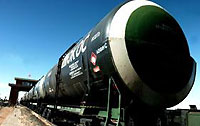 A file photo shows tank cars entering China from Russia at Erlianhaote of the Inner Mongolia Autonomous Region on September 23, 2004. [Xinhua]

Oil demand is expected to keep growing at or above the forecast GDP growth of 8.5 percent for 2005, Zhang Xiaoqiang, vice minister of China's National Development and Reform Commission (NDRC) said on Thursday.

China imports about 40 percent of its crude needs, a proportion that is possible to rise as its consumption shoots higher to fuel a robust economic growth.

Ten million barrels of storage capacity in the east coast city of Ningbo is due to be ready for use in August this year, the first phase of a strategic petroleum reserve (SPR) of some 150 million barrels planned for completion in three to five years, some analysts said.

Chinese oil firms usually hold between 10 and 30 days of oil stocks as part of commercial operations, but Beijing economists have become concerned over the last couple of years over lack of emergency stockpiles, which the developed countries like the United States and Japan have long before built on their soil.

"In 2005 we will still see a relatively stable situation in energy consumption," said Zhang.

China is trying to reduce the energy intensity of its heavy industry to bring energy efficiency closer to western norms, Zhang said. In industrialized nations oil demand growth is generally half their GDP growths.

"Our energy consumption rate will be reduced step by step so we can use doubling of energy consumption to support a quadrupling of GDP," Zhang said. "Last year prices went above $50. Some say this is dangerous not only for China but for the world economy and I agree with this opinion."


Today's Top News
Top China News

China to outlaw sex-selective abortions




Wen proposes more aid, co-operation




Strategic oil reserves to be filled next year




China urges US to lift sanctions




Tsunami death toll rises to 145,000




Ten faces of 2004's economy