1.3 billionth citizen welcomed in mixed mood
(Xinhua)
Updated: 2005-01-07 02:01
China Thursday morning welcomed its 1.3 billionth citizen, but experts cautioned that the country should get prepared to address its still growing population, increasing employment pressure and rising sex ratio imbalance before celebrating.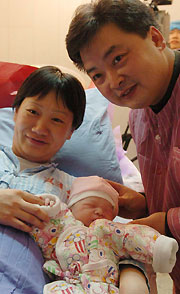 The baby poses for photograph with parents. [Xinhua]

The baby boy, born at two minutes past midnight Thursday in a Beijing hospital, was called a "lucky dog" by his father to be declared China's 1.3 billionth citizen. On the same day, more than 20,000 other babies were added to China's population list.

The National Population and Family Planning Commission (NPFPC) had determined in advance that the first baby born in this hospital after midnight would be the symbolic 1.3 billionth Chinese.

Experts say China's 1.3 billion population might have come four years earlier if it were not for the family planning policy the Chinese government adopted over three decades ago.

Even so, Chinese demographers viewed the event in mixed mood.

"It's a great achievement," said Zhai Zhengwu, head of the social and population college of the Beijing-based People's University. "China's population would be 300 million more without the policy."

In the early 1970s, a Chinese couple had an average of 5.8 children. The number has since dropped to 1.8, placing China in the world's low-birth-rate club.

"But the 1.3 billion population has once again sounded the alarm that China's population issue remains not optimistic," said Zhang Weiqing, minister in charge of the NPFPC.

Zhang has reason to worry, as China is expected to add eight to 10 million to its population each year. A National Statistics Bureau (NSB) projection puts China's population at 1.47 billion around 2032.

A report from a team with the Chinese Academy of Sciences estimates that the ideal population size for China is 700 million, and the largest number that China could possibly accommodate is 1. 6 billion.

Besides a rising population, China will also undergo a peak season of working age population and ageing population.

NSB figures show that China has entered a ten-year-long period of labor boom and will see the group expand to 930 million around 2015.

"It will be very hard to create enough employment opportunities, " said Yu Xuejun, head of the NPFPC's policy and law department.

At the same time, China is increasingly advancing into an ageing society. It is estimated that the proportion of the elderly in China would rise from 7 percent now to 11.8 percent in 2020 and exceed 400 million by the middle of this century.

"China will get old before it gets rich," warned Siri Tellier, United Nations Population Fund representative in China.

A high gender imbalance may also bring about more severe challenges to China's policy makers and the general public as well.

According to the country's fifth census conducted in 2000, the gender imbalance rate stands at 119.92 boys to 100 girls, compared with the normal rate of less of 106 boys to 100 girls.

China's 1.3 billionth citizen is likely to encounter such problems. Besides being competitive to secure a job and a wife, he and his future spouse, the only child in each's family, will have to support not only their own parents, but their grandfathers and grandmothers.

"We have so far no plan to change the family planning policy. But the Chinese government will take comprehensive measures to coordinate population growth with socioeconomic development," said a NPFPC official.




Today's Top News
Top China News

Premier Wen proposes more aid and co-operation




Strategic oil reserves to be filled next year




Foreign Ministry demands US lifts sanctions




1.3 billionth citizen welcomed in mixed mood




Nation backs UN lead role in relief




Security increased for engineers in Pakistan