Touched by a six-year-old
By Wu Yong (China Daily)
Updated: 2005-01-07 01:32
"It was around 9 o'clock in the morning on January 1 when the little boy came into my office. At first I was rather surprised,'' recalled Liu Xicheng, vice-chairman of the local Red Cross in Shenyang.
It was the first day of New Year holiday and also one of the coldest weekends of the year. Liu and other members of local Red Cross had just drawn up a donation plan for the tsunami-hit regions of Southeast Asia. He never expected a little boy would be the first to act.
"I am here to donate money,'' said the boy with a golden China piggy-bank in hands.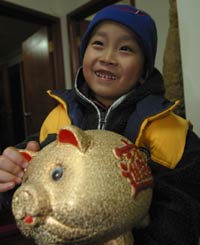 At his home Thursday night, six-year-old Mou Yicheng shows his piggy-bank in which he kept the savings of 177.21 yuan he donated to tsunami victims on New Year's Day. [newsphoto]

"I know the water has swept away many houses and schools in our neighbour nations from TV. And many children could not go to school as usual. I want to donate my money to help them set up new schools. So they can become as happy as me,'' he announced.

At just over a metre tall he looked like any other primary schoolboy.

But this was one very special youngster and one Liu will be a long time forgetting.

Lost for words Liu said nothing, just took out a donation box and began counting the coins inside the piggy-bank one by one as the boy stood beside carefully watching and counting each one.

When all the money was added up he turned to Liu and asked: "May I give this bank to the children there? And how many schools can be built?''

Finding his voice Liu replied: "No, my boy. I am sorry I could not take this because I could not mail it to them.

"But I promise I will send your money to the children there. I think maybe we can set up three schools for them,'' he kindly teased.

It was sometime later that Liu discovered from the boy's father the lad had been saving for years, and the money he donated -- 177.21 yuan (US$21.4) -- was all he had saved.

"The night before when we watched television about the tsunami my son saw the miserable children in Southeast Asia. He decided to donate all his savings to help them at once,'' the father explained.

Liu only discovered the boy's identity when he insisted that he needed his name to give him a receipt for the donation.

When the story began to circulate in the Liaoning provincial capital, local media traced him.

And inquiries revealed that it is not the first time Mou Yicheng, a first grade student at the No 1 Nanjing Street Primary School in Heping District of Shenyang has acted with spontaneous generosity.

"When he was in kindergarten, he gave some of his own clothes for disadvantage children,'' said his grandmother.




Today's Top News
Top China News

Premier Wen proposes more aid and co-operation




Strategic oil reserves to be filled next year




China urges US to lift sanctions




1.3 billionth citizen welcomed in mixed mood




Ten faces of 2004's economy




WB: China's economy faces challenges