Wen proposes more aid, co-operation
By Zhao Huanxin (China Daily)
Updated: 2005-01-06 22:47
Premier Wen Jiabao has called for the world community to improve its emergency relief and rebuilding operations while installing an early warning system in countries at risk from disasters like the devastating quake and tsunami.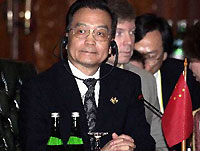 Premier Wen listens to speech at the summit. [Xinhua]

Wen was among leaders from 26 tsunami-hit nations, donor countries and international organizations that gathered in the Indonesian capital Jakarta for a summit to discuss how to deal with the aftermath.

Responding to an appeal from the United Nations, the Chinese Government has pledged to provide an additional US$20 million for multilateral relief and reconstruction efforts, Wen said.

The Chinese Government had promised 521.63 million yuan (US$63 million) of aid in two batches the next day after the disaster and on December 31.

China will make good half of its pledged donations by the end of January, write off all Sri Lankan debt, and cut monies owed by other countries, he told the one-day conference yesterday.

The meeting, initiated by the Association of Southeast Asian Nations (ASEAN), started with a minute's silence to remember the more than 150,000 people killed. The toll may rise with people dying in epidemics.

"I have come to this meeting with a heavy heart," Wen said at the start of his address.

The Chinese Government has mounted its largest-ever foreign relief operation to date, Wen said. Deliveries are going on for the second batch of Chinese aid. Also on the way are donations from ordinary people and institutions.

"We'll continue doing our very best to help your efforts in disaster relief and reconstruction," he assured the affected nations.

"The post-disaster rebuilding and rehabilitation is an arduous task, calling for vigorous support and assistance from the international community," Wen said. "China is ready to actively contribute to these efforts."

China has appealed to other nations and international organizations to work more closely in aid drives, and act on their aid pledges.

Wen urged donor countries to adjust and supplement their supplies in line with actual needs, and make medicine, water and food available as soon as possible.

Early warning scheme

The scale of the disaster reinforced the need to establish an early-warning mechanism, Wen said.

China will host a China-ASEAN workshop about the issue on January 25-26 in Beijing, he said.

The premier said China is ready to share the relevant data and services of its Fengyun-2 meteorological satellite with countries in the region, to help them with weather forecasts, environment monitoring and disaster assessment.

He also proposed a 10--1 (ASEAN plus China) seminar on post-disaster disease prevention should be held under the China-ASEAN Fund for Public Health.

Wen said China supported regional tourism ministers to buoy up efforts to revive their tourist industries.

The Chinese Government will encourage its people to travel to these countries when conditions return to normal, he said.

The premier reiterated the government's support for Chinese firms to join in the reconstruction.

Grateful to China

The meeting, chaired by Indonesian President Susilo Bambang Yudhoyono, heard presentations by special envoys from Indonesia, Myanmar, Malaysia, the Maldives, Sri Lanka, India and Thailand and adopted a joint declaration including emergency relief, reconstruction and preventive measures before wrapping up summit with more pledges.

Also at the summit, UN Secretary-General Kofi Annan urged parties to convert their pledges into cash quickly.

"To protect the maximum number of lives, to restore dignity and hope, our assistance must be timely and well co-ordinated," he said.

At a press conference later in the day, Annan said the international community was "grateful" to the Chinese Government for its help.

"The government response has been matched by unprecedented generosity from the general public. Consider the six-year-old boy in Shenyang, China, who donated his life savings of US$22."




Today's Top News
Top China News

Tsunami death toll rises to 160,000




Wen proposes more aid, co-operation




Strategic oil reserves to be filled next year




China urges US to lift sanctions




Ten faces of 2004's economy




WB: China's economy faces challenges