China urges US to lift sanctions
By Zhu Qing& Hu Xiao (China Daily)
Updated: 2005-01-06 22:47
China yesterday requested the United States to "immediately end the sanctions" imposed on eight Chinese companies for alleged proliferation activities.
"The Chinese side expresses strong dissatisfaction and opposition to US sanctions,'' said an official with the Foreign Ministry Spokesman's office in a telephone response yesterday.
The United States has taken "very irresponsible" action against the Chinese companies and entities on the basis of their domestic laws, she said.
"We believe such actions by the United States will not help expand Sino-US co-operation on nonproliferation," she said.
China adamantly opposes and prohibits proliferation activities by any entities or individuals, as well as the export of related goods by any Chinese companies, said the official.
To this end, China has adopted related anti-proliferation laws. And any such cases identified by the Chinese Government will be penalized according to law.
The US State Department recently announced the imposition of two-year sanctions, prohibiting eight companies on the Chinese mainland and Taiwan from exporting goods to the United States.
Ministry briefing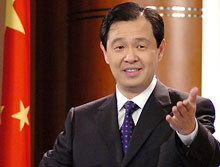 FM spokeman Kong Quan gestures at the regular press briefing. [www.fmprc.gov.cn]

At yesterday afternoon's regular press briefing, Foreign Ministry spokesman Kong Quan refuted some press reports claiming ethnic Chinese Indonesians had been the target of large-scale robberies.

Kong said the Chinese Government had looked into the allegations, as had its embassy in Indonesia, and there were no reports of such cases.

"All the local Chinese have expressed that currently the priority is to start reconstruction," said Kong.

Also at the briefing, he dismissed speculations that the postponement of a visit by a group of Japanese lawmakers to Beijing was linked to controversial visit by former Taiwan leader Lee Teng-hui to Japan.

"This visit by parliament members was suspended because a lot of areas will be covered and we need more time to prepare for it," said Kong.




Today's Top News
Top China News

Premier Wen proposes more aid and co-operation




Strategic oil reserves to be filled next year




China urges US to lift sanctions




Nation backs UN lead role in relief




1.3 billionth citizen welcomed in mixed mood




Nine American troops killed in Iraq