Official: Iraq elections delay too risky
(Agencies)
Updated: 2005-01-06 21:04
BAGHDAD, Iraq - Iraq's prime minister is sticking to his position that the country's elections should be held Jan. 30, despite daily insurgent attacks and calls by some for a delay to win over minority Sunnis. He may have little choice.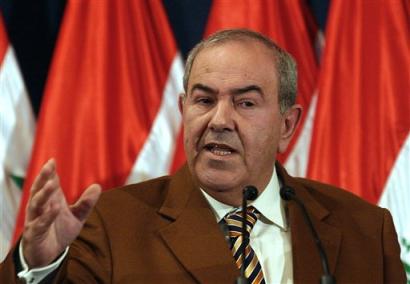 Iraqi Interim Prime Minister Ayad Allawi addresses the media in Baghdad, Wednesday, Jan. 5, 2005. More Iraqi interim government officials are calling for the postponement of the Jan. 30 elections to ensure a higher Sunni voter turnout, but Allawi however, insists that voting take place as scheduled. [AP]

The government says it does not want to give in to the campaign of violence by Sunni-led insurgents, but there's another reason. Iraq risks even wider violence if it infuriates the Shiites, who make up 60 percent of this nation and are eager to parlay the ballot into a leading political role.

Interim Prime Minister Ayad Allawi and President Bush have repeatedly promised that the vote will go forward, and both American and Iraqi officials have warned the insurgents would step up their campaign of violence beforehand.

To back down now would allow the insurgents to claim victory, as well as seriously damage Allawi's credibility before an election in which he is also running as a candidate.

"It would lead to more degradation in security and cause a political crisis because the interim government would lose its legitimacy and credibility," said Saad Jawad, a Shiite and senior member of the Supreme Council for the Islamic Revolution in Iraq. "The majority of the Iraqis will be frustrated and will deem the political powers — which have repeatedly promised them the vote — unethical."

Jawad's party is a key player in the coalition of mainstream Shiite parties that is running for the elections. He insisted that Shiites would not resort to violence if the vote is delayed, saying that Grand Ayatollah Ali al-Sistani, the influential Shiite leader who has been a leading proponent of elections, would not condone it.

But other Shiite clerics and their followers might. One success the United States and its allies have had in neutralizing dissent has been its handling of radical Shiite cleric Muqtada al-Sadr. He's kept his militia quiet since a cease-fire agreement in the holy city of Najaf, and fighting in the Shiite district of Baghdad's Sadr City ended in April.

And mainstream Shiites could also make things extremely difficult for the government if the vote is delayed. For example, they could call on their supporters in cities like Najaf, Baghdad, and Karbala to rise up in protest, essentially paralyzing much of the south.

The root of the problem surrounding the vote is that without the support of Sunni Arabs and their leaders, the election process will also be seen as illegitimate. Without their participation in the election, it will be difficult to persuade Sunnis or the Middle East, where leaders are overwhelmingly Sunni, that the vote was credible and the new government is not just the creation of a U.S.-orchestrated plan that began with the war to oust Saddam Hussein (news - web sites).

That has led some officials to suggest giving more time to persuade the Sunnis to join the political process. Several leading Sunni clerics have demanded a boycott of the vote, while the leading Sunni party in Iraq pulled out of the race because of the poor security situation.

On Monday, Iraqi Defense Minister Hazem Shaalan told reporters in Cairo that he has asked Egypt to try to persuade the Sunnis to participate in the elections.

"And if they agreed, then we could postpone the date to let all Iraqis go to the polls in one day," he said.

That followed a suggestion by Iraq's U.N. Ambassador Samir al-Sumaidaie, who wrote in The Washington Post that the election could be delayed by two or three weeks.

In an interview with U.S.-supported Alhurra television station on Wednesday, Iraq's interim president, Ghazi al-Yawer, a Sunni whose post is mostly symbolic, said Iraq has a "legal, political and moral duty to abide by the election date" but also suggested that Iraqis needed to think hard about whether a legitimate vote could be held, and if not, should consider a delay.

"I see that we should continue working on how to hold the elections on schedule but we should not move or lack the courage if we see that this is impossible," al-Yawer said.

There is only one body that can decide whether to delay the vote — Iraq's electoral commission. And so far, no one has submitted a formal request asking that the vote be delayed.

Also, many officials say a delay might not achieve very much. Insurgents would likely only claim victory and keep up their attacks, Shiites who back the vote would feel cheated, and Sunnis would likely see little reason to change their minds and join the race.

Allawi recognized that problem in a press conference on Wednesday, when he said some political groups had asked him for a delay. He said there was no clear plan for what to do during the delay to make the vote more credible.

"I told them, 'What shall we do during this period? What are we going to do if the elections were postponed for a month or two? Is there an alternative that we can study?'" Allawi said. "In fact, none of the brothers who call for postponing elections ... had anything tangible to offer for the period during which elections will be delayed."




Today's Top News
Top World News

Premier Wen proposes more aid and co-operation




Strategic oil reserves to be filled next year




China urges US to lift sanctions




1.3 billionth citizen welcomed in mixed mood




Ten faces of 2004's economy




TCM bids for 'intangible heritage status'