Body search goes on as Thailand strives to assess tsunami toll
(Agencies)
Updated: 2005-01-06 20:52
PHUKET, Thailand - Thailand struggled to assess the human cost of its tsunami disaster, pressing ahead with the search for more bodies but sharply reducing the figure for those missing and feared dead.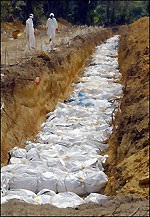 Thai workers walk past dead bodies at a mass grave in Bang Mak Roang temple in Takua Pa. Thailand struggled to assess the human cost of its tsunami disaster, pressing ahead with the search for more bodies but sharply reducing the figure for those missing and feared dead. [AFP]

The embattled meteorology department meanwhile defended itself against criticism that it failed to predict the tsunamis on December 26, which killed locals and foreign tourists alike along the palm-fringed Andaman Sea coastline.

Prime Minister Thaksin Shinawatra vowed to press ahead with search efforts, turning attention to bodies washed out to sea.

"We will now focus on searching in the sea and mangrove forests. We will not stop as long as the missing figure is still high," he told reporters.

The interior ministry said 5,288 people -- 2,565 Thais, 2,510 foreigners and 213 whose race could not be determined -- are now confirmed dead, but the number listed as missing fell sharply to 3,716 from 4,449 reported Wednesday.

"We are not making the figures look good. This is the real figure," insisted a senior official from the ministry's disaster mitigation unit, who spoke on condition of anonymity.

Some people were found to have reported the same missing person at several centres, the official said.

Reports from the field have suggested a higher death toll.

At least 30 bodies are still arriving every day at a makeshift morgue in Yanyao temple in the town of Takua Pa, in the north of Phang Na province, a Thai forensics expert told AFP.

"Each day we have 30 to 50 bodies" arriving from other areas, Pornthip Rojanasunan said, estimating that 1,900 bodies have passed through the temple.

Phang Nga, where the devastated beach resort of Khao Lak is located, was especially hard-hit by the tsunami, with some 4,160 people including 2,213 foreigners confirmed dead.

Eleven days after the disaster, more bodies were still being found in two lakes being drained in the devastated fishing town of Baan Nam Khem.

Amid the chaos, supreme commander General Chaisit Shinawatra accused some "influential people" of trying to grab coastal land in wave-hit provinces. Soldiers were willing to stop them if asked, the Nation newspaper quoted him as saying.

An army spokesman confirmed Chaisit's remarks but did not elaborate.

Thailand's toll was still relatively small compared with some other tsunami-hit nations but the pain was shared with numerous foreign countries.

Europe fell silent for three minutes Wednesday to remember the victims of the raging waters, which could include hundreds or thousands of its vacationing citizens.

But Thaksin decided not to attend a Jakarta emergency summit, sending his foreign minister instead.

"Prime Minister Thaksin has not attended the summit as he sees the disaster in the south is an urgent problem to solve," government spokesman Jakrapob Penkair said.

Thaksin has transferred the chief of the meteorology department amid an investigation into why there was no warning of the tsunamis triggered by a massive earthquake off Sumatra.

"Our bureau cannot predict earthquakes, nor can it predict tsunamis. We can only measure the earthquake's magnitude and epicentre," a department expert was quoted by The Nation as saying.

"The idea of a tsunami didn't even cross my mind at that time because it has never happened before in the Indian Ocean," Burin Vejbanterng was quoted as saying.

The Nation said Burin was the only earthquake expert on duty at the earthquake bureau on the fateful morning. He could not be reached for comment.




Today's Top News
Top World News

Premier Wen proposes more aid and co-operation




Strategic oil reserves to be filled next year




China urges US to lift sanctions




1.3 billionth citizen welcomed in mixed mood




Ten faces of 2004's economy




TCM bids for 'intangible heritage status'