Leaders put $4b to work at tsunami summit
(Agencies)
Updated: 2005-01-06 15:17
World leaders tried to put $4 billion in aid pledged for tsunami survivors to work on Thursday, the urgency of their task conveyed in a chilling warning that the death toll could double without quick action to prevent disease.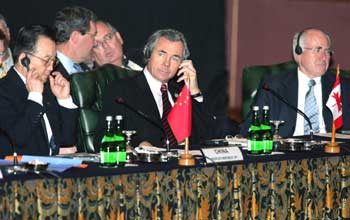 Chinese Premier Wen Jiabao (L) sits with Australian Prime Minister John Howard (R) and Canadian Foreign Minister Pierre Pettigrew (C) during the opening of the Special Asean Leaders' Meeting on Aftermath Quake and Tsunami Summit at the Jakarta Convention Centre January 6, 2005. [Reuters]

U.N. Secretary-General Kofi Annan appealed at the summit in the Indonesian capital Jakarta for $979 million to be promised to specific projects, covering basic humanitarian needs for an estimated 5 million people in the next six months.

"What happened on 26 December, 2004 was an unprecedented, global catastrophe. It requires an unprecedented, global response," he said, calling it the largest natural disaster the world body had faced.

Governments around the world have pledged $3.7 billion in aid so far and private groups or individuals another $630 million.

Aid workers have yet to reach large parts of Aceh, a province of 4 million people on the northern tip of Indonesia's Sumatra island, because the gargantuan waves destroyed roads, bridges and ports.

They fear the overall death toll, now around 145,000 from the strongest earthquake in 40 years and the tsunami it spawned, could climb higher when they do get to these parts.

The summit in Indonesia, focusing on longer-term aid now that the global relief effort is in full swing, was also set to endorse debt relief to help nations rebuild, and back a warning system to save lives in the future.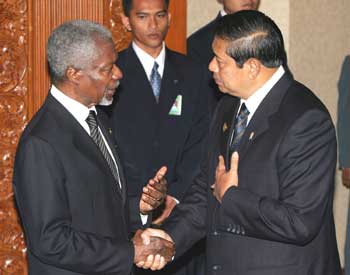 Indonesian President Susilo Bambang Yudhoyono(R) greets U.N. Secretary-General Kofi Annan at the Jakarta Convention Centre January 6, 2005. [Reuters]

It opened amid extraordinary security with a minute of silence for the victims.

The World Health Organization (WHO) warned before the summit that access to safe drinking water remained inadequate, encouraging diarrhoeal diseases such as cholera and dysentery.

"If basic needs ... are not urgently restored to all populations by the end of this week, WHO fears that outbreaks of infectious disease could result in a similar number of fatalities as occurred due to the direct impact of the tsunami," it said.

LIKE A NIGHTMARE

Annan said the catastrophe was "like a nightmare from which we are still hoping to awaken."

It was all too real for millions in 13 affected countries and for tens of thousands of relatives of foreign tourists from 40 countries who are dead or missing following the disaster.

"From the nameless fishing villages of Sumatra to the modern tourist resorts of Thailand; from the beaches of Sri Lanka and India to the coastal communities of the Maldives and Somalia; the disaster was so brutal, so quick, and so far-reaching that we are still struggling to comprehend it," Annan said.

He told reporters that as big swathes of Sumatra had not been surveyed, the toll was likely to climb, adding: "We may never know how many people actually died."

US Secretary of State Colin Powell, Japanese Prime Minister Junichiro Koizumi and Chinese Premier Wen Jiabao were among a score of other leaders at the summit.

Indonesian President Susilo Bambang Yudhoyono, in an opening speech, called for a tsunami warning system in the Indian Ocean, similar to one long established in the Pacific.

Koizumi said Japan was willing to freeze debt payments for countries hit by the tsunami.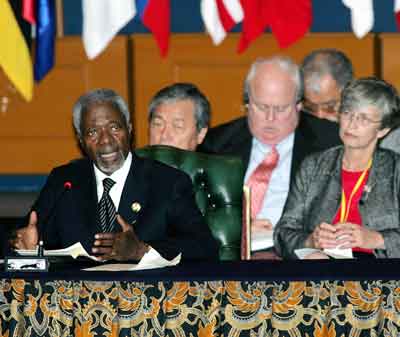 U.N. Secretary-General Kofi Annan (L) delivers a speech during the opening of the Special Asean Leaders' Meeting on Aftermath Quake and Tsunami Summit at the Jakarta Convention Centre January 6, 2005. World leaders met on Thursday to discuss tsunami aid, the task's urgency underlined by a chilling warning that the death toll could double to about 300,000 without swift action to prevent diseases. [Reuters]

"The affected nations were hit by a huge disaster which may strike only once in 100 years ... a debt moratorium for a certain period is necessary and I would like to urge other nations to do so," he said.

Powell said a "core group" set up on Dec. 29 by the United States, Japan, India and Australia to coordinate tsunami relief was being disbanded and folded into U.N.-led operations.

Indonesia said almost 100,000 people had been counted dead so far and 600,000 people in worst-affected Aceh were now homeless -- up from the last estimate of half a million.

MORE AFTERSHOCKS

Fresh tremors in Aceh's capital Banda Aceh sent the hungry and homeless running in panic -- the latest of dozens of aftershocks since the 9.0 magnitude undersea earthquake, about 150 km (100 miles) offshore, triggered the tsunami.

As the smell of rotting corpses again hung over the city hundreds queued outside a makeshift aid station, once Banda Aceh's flashiest shopping mall, waiting for it to open.

When a tremor shook the old mall everyone scattered, running up the street, jumping on motorbikes, crying, fearing another killer wave. But the queue quickly re-formed.

"We don't have anything. Everyone is like this, the rich and the poor. Now everybody has to queue," said Yusri.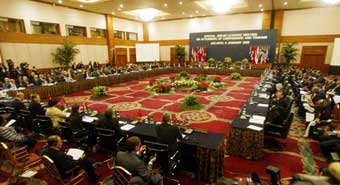 A view of the Special Asean Leaders Meeting on Aftermath of Earthquake and Tsunami at the Covention Centre in Jakarta January 6, 2005. Global leaders gathering in Jakarta to discuss the tsunami that devastated countries around the Indian Ocean will try to draw lessons from the disaster, including looking at a future warning system. [Reuters]

Much of the city has been looted, and people are forced to scavenge among the rubble, littered with dozens of boats tossed from the sea, as Indonesian troops patrol the streets.

"This is more than a curse," said Sudirman, a butcher and one of the very few people to reopen a business. "Allah is very angry. And we must be resolute."

After getting a bird's-eye view of Aceh's battered coastline on Wednesday, Powell promised more helicopters, food and clean water for isolated survivors of the tsunami.

"I have been in war and I have been through a number of hurricanes, tornados and other relief operations, but I have never seen anything like this," said Powell, who served in Vietnam and rose to be his country's military chief.

U.S. helicopters are flying dozens of missions a day to the devastated west coast of Sumatra, air-dropping supplies.

U.N. emergency relief coordinator Jan Egeland said that the United Nations (news - web sites) needed to plan on caring for as many as 800,000 tsunami survivors in Indonesia alone for the next year.

U.N. officials said orphaned or lost children might fall prey to criminal gangs bent on selling them into slavery.

At an orphanage in southern India, 15-year-old Sitha, her sister Sitha Lakshmi, 10, and 8-year-old brother Amitha grappled with the loss of their parents.

"I'm the head of the family now," Sitha said, holding back tears. "I have to look after them. Mummy wanted them to get educated and I have to make that happen now."




Today's Top News
Top World News

Leaders put $4b to work at tsunami summit




Wen: We'll give more and keep promises




Beijing greets 1.3 billionth mainland baby




China targets 15% money supply growth




Alert on charity scam while lending a hand




Suicide car bombings kill 25 in Iraq