Suicide car bombings kill 25 in Iraq
(Agencies)
Updated: 2005-01-06 08:56
A suicide attacker blew up an explosives-laden car Wednesday outside a police academy south of Baghdad during a graduation ceremony, killing 20 people.
A second car bomber killed five Iraqi policemen — bringing the death toll to at least 90 so far this week in surging violence aimed at derailing this month's elections.
Despite the mounting attacks and death toll, Iraq's interim leader again insisted the ballot would go ahead as planned.
"We will not allow the terrorists to stop the political process in Iraq," Prime Minister Ayad Allawi said "The elections process is the basis for the deepening of the national unity in Iraq."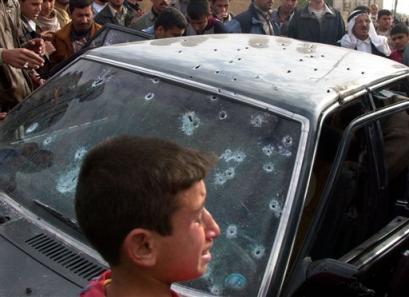 An Iraqi boy reacts after seeing his sister and both of his parents killed in the car, in Ramadi, 100 kilometers (60 miles) west of Baghdad, Wednesday, Jan. 5, 2005. Four Iraqi civilians were killed and two others were injured when U.S. soldiers opened fire after their convoy was attacked by rocket-propelled grenades in central Ramadi. The U.S. military had no immediate information about the incident. [AP]

While Allawi and U.S. military commanders insisted parliamentary elections must be held as scheduled on Jan. 30, interim President Ghazi al-Yawer, who holds only ceremonial powers, left open the possibility that the vote could be postponed.

"I think that we should continue working on how to hold the elections on schedule, but we should not lack the courage if we see that this is impossible," said al-Yawer, a Sunni Muslim tribal leader.

If the election takes place, it is expected to shift power to the Shiite Muslim community, an estimated 60 percent of the population that has been dominated by the Sunni Arab minority since modern Iraq was created after World War I.

The insurgency is believed to be led by Sunnis and Saddam Hussein's supporters. U.S. officials believe the violence is aimed at blocking the elections and causing worse chaos in hopes of driving out the U.S.-led military coalition. They say postponing the vote would be tantamount to conceding victory to the militants.

The car bomb outside a gate of the police academy in Hillah, about 60 miles south of Baghdad, was the latest in a series of attacks on Iraqi security forces. More than 1,300 policemen were killed in the final four months of 2004, the Interior Ministry said Wednesday.

Police Capt. Hady Hatef in Hillah said the blast occurred during a graduation ceremony at the academy and killed at least 20 people, including civilians. Polish Lt. Col. Artur Domanski, a spokesman for the multinational force in Hillah, said at least 10 policemen were among the dead and 41 people were wounded.

In the restive city of Baqouba, 30 miles northeast of Baghdad, a suicide attacker rammed his car into a joint police and Iraqi National Guard checkpoint, killing five policemen and wounding eight other Iraqis, a U.S. spokesman, Maj. Neal O'Brien, said. The driver was also killed.

In a separate attack, gunmen killed police Col. Khalifa Hassan and his driver as they headed to work in Baqouba, said Dr. Ahmed Fouad at Baqouba General Hospital.

Between 20,000 and 30,000 insurgents are operating throughout Iraq and are directed by former officials of Saddam's regime based in Syria, Iraq's intelligence chief said in an interview published Wednesday by a London-based Arab newspaper.

"We officially call them terrorists," Maj. Gen. Mohammed Abdullah al-Shahwani told Asharq Al-Awsat. "They are between 20,000 and 30,000 armed men operating all over Iraq, mainly in the Sunni areas where they receive moral support from about 200,000 people."

Al-Shahwani predicted attacks would fade out within a year.

Allawi said Wednesday that "there is no doubt we will crush these terrorists and we will guarantee security and stability for our people in the near future."

He said Iraqi security forces are being equipped with new weapons and armored vehicles.

"Hostile force are still trying to cause harm and damage, but the Iraqi forces are becoming better, and they have captured and killed some terrorists," Allawi told reporters.

He said security forces recently arrested two aides of Jordanian terrorist Abu Musab al-Zarqawi, who is believed to be one of the insurgency's leaders.

"They were detained in Mosul along with three or four others and they have started confessing now to Iraqi security about the networks they run in order to harm our people," Allawi said.

In other violence, an explosives-filled car following a convoy of U.S. and Iraqi troops detonated in western Baghdad on Wednesday, killing two Iraqi civilians and wounding 10, police said. No troops were hurt.

The attack came as a funeral procession was held nearby for the governor of Baghdad, Ali al-Haidari, who was assassinated Tuesday. It was not clear if the bomb targeted the mourners, which included Iraqi officials, or the troop convoy. The Ansar al-Sunnah Army, a radical Islamic group, claimed responsibility.

Dr. Riyad al-Hiti at the hospital in Ramadi, 60 miles west of Baghdad, said four Iraqi civilians were killed and two injured when U.S. soldiers opened fire after their convoy was attacked by rocket-propelled grenades in Ramadi. The U.S. military had no information about the incident.

The U.S. military reported an American soldier with Task Force Olympia was killed and two were wounded Tuesday when a patrol was attacked by small arms and rocket-propelled grenades in Tal Afar in northern Iraq.

Five other servicemen died in three separate attacks Tuesday, making it the deadliest day for the U.S. military since a suicide bombing killed 14 American soldiers and eight others at a mess tent in Mosul on Dec. 21.




Today's Top News
Top World News

Wen: We'll give more and keep promises




Beijing greets 1.3 billionth mainland baby




China targets 15% money supply growth




North Korea issues wartime guidelines




Migrant workers receive their backpay




Beijing tests DNA from Thailand