Ice festival starts in Harbin
By Li Fangchao (China Daily)
Updated: 2005-01-06 08:42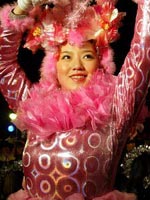 The dancing performance at the opening ceremony.

Thousands of visitors from both home and abroad have flocked to this northern city, capital of Northeast China's Heilongjiang Province.

Immersed in a festive atmosphere, Harbin enjoyed another day off yesterday, only one day after the three-day New Year's Holiday as the Ice and Snow Festival opened.

More than 7,000 passengers flew into Harbin each day and daily travelers at the railway station soared to nearly 70,000 each day since the end of December in the run-up to the festival.

Most of the passengers have come from major cities in other parts of the country and Russia, South Korea and some from Southeast Asia.

Covering an area of 400,000 square metres and built with 120,000 cubic metres of ice and snow, a Grand Ice and Snow World has been set up on the Sun Island on the Songhua River, which traverses the northern part of the city from west to the east.

Compared with previous ice festivals, this year's gala has made many breakthroughs and innovation in both scale and style, according to Du Chuandong, director of the Heilongjiang Provincial Tourism Bureau.

Besides the ice lantern garden party, ice and snow sculpture competition, and a wedding ceremony on ice, a series of sports activities on ice will also be held during the two months time until the end of February, he said.

A swimming pool was made on the river by chiseling away the ice in order to accommodate swimmers. A car rally competition on the ice, snow football, and various skiing competitions were also planned.