Wen: We'll give more and keep promises
By Zhao Huanxin (China Daily)
Updated: 2005-01-06 08:11
JAKARTA: Premier Wen Jiabao has pledged more help for quake and tsunami-hit Indonesia and other nations after flying to Jakarta to attend a summit Thursday.
In a meeting with Indonesian President Susilo Bambang Yudhoyono late yesterday, Wen said China would continue to deliver aid.
The premier said China is willing to send epidemic prevention experts and medical teams to Indonesia. China is also ready to help rebuild roads, bridges and power stations in the country.
Wen also offered to share China's experience and expertise in earthquake monitoring.
Susilo said Indonesia welcomed Chinese firms' help with its reconstruction.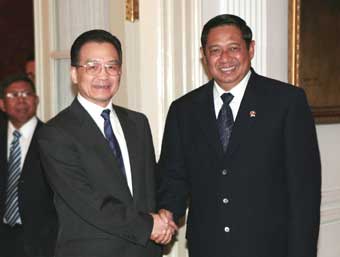 Indonesian President Susilo Bambang Yudhoyono (R) greets Chinese Prime Minister Wen Jiabao for a meeting at the Presidential palace in Jakarta, January 5, 2005. Global leaders gathering in Jakarta to discuss the tsunami that devastated countries around the Indian Ocean will try to draw lesson from disaster, including looking at a future warning system. [Xinhua]
He said Indonesia has an urgent need to set up an early warning system and hoped China could help train its earthquake and tsunami forecast personnel.
Today's emergency summit will discuss co-ordinating global aid operations and establishing a catastrophe monitoring system.
The special one-day meeting was initiated by the Association of Southeast Asian Nations (ASEAN), and will be attended by more than 20 heads of state and representatives of international organizations, including United Nations Secretary-General Kofi Annan. Indonesian police have raised the alert status to its maximum.
"I do not have a big entourage with me this time, but I'm flying (here) with 16 tons of relief materials, as well as the kind affections of the Chinese people," Wen said after his plane touched down at Halim airport in Jakarta yesterday evening.
The "urgently needed" materials include food, medicine and disaster relief equipment, Foreign Ministry spokesman Liu Jianchao said.
He added the premier had asked delegation members to limit their luggage so the plane could carry more.
Wen said he will talk with others at the international conference about ways to reinforce disaster relief operations and help it all proceed efficiently and effectively.
Wen said the Chinese Government will put forward its own proposals at today's summit.
"We have made promises, and we mean what we say," he said.
Also last night, Wen held separate talks with the President of the Republic of Maldives Maumoon Abdul Gayoom, South Korean Prime Minister Lee Hae-chan, Foreign Minister of Thailand Surakiart Sathirathai, and Foreign Minister of Sri Lanka Lakshman Kadirgamar.
Wen also encouraged Chinese rescue teams in Indonesia via phone.
Beijing meeting in January
Earlier, Chinese ambassador to Indonesia said China, ASEAN and tsunami-hit countries elsewhere will gather in Beijing late this month to consider setting up a pre-alarm mechanism to warn of future earthquakes and tsunamis.
The proposal was raised by China and has been initially agreed by the other parties, said Lu Shumin.
A special conference will be convened in Beijing in late January to seek consensus on the mechanism, as well as funding resources and equipment, said the ambassador.
Lu said on Tuesday the Chinese Government is glad to play a corresponding role in the reconstruction of disaster-struck Indonesian sites.
Having advantages in infrastructure construction, China is ready to provide assistance in the rebuilding large-scale projects, Lu said.
The Asian disaster has so far caused 152,000 deaths and massive destruction to countries on the Indian Ocean's rim from Indonesia to Somalia.
China has been delivering an additional 500 million yuan (US$60.46 million) in humanitarian aid, following an initial deliveries of goods worth US$21.62 million.
Powell shocked
Before his meeting with the Indonesian president, US Secretary of State Colin Powell voiced shock at the devastation of Asia, saying it was more horrible than the war he had witnessed in his decades as a soldier.
"I have been in war and I have been through a number of hurricanes, tornadoes and other relief operations, but I have never seen anything like this," America's former top soldier said after flying down the ravaged northwest coast of Sumatra.
Today's Top News
Top China News

Premier Wen proposes more aid and co-operation




Strategic oil reserves to be filled next year




China urges US to lift sanctions




1.3 billionth citizen welcomed in mixed mood




Ten faces of 2004's economy




WB: China's economy faces challenges