Artists sing for charity in Beijing shows
(China Daily)
Updated: 2005-01-05 01:02
Artists across the Chinese mainland are busy preparing major charity events to raise money for those who lost loved ones in the disaster.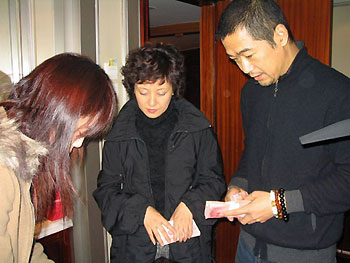 Actor Zhang Guoli[R] and actress wife Deng Jie [C] donate for the tsunami victims in Beijing on January 5, 2004. [Xinhua]

Movie industry stars include directors Feng Xiaogang, Chen Kaige, Zhao Baogang, Li Shaohong; and actors Chen Hong, Zhang Guoli, Deng Jie, Zhang Tielin and Wang Gang. They will work with China Central Television's (CCTV) popular show "The Same Song" to performtoday at the Beijing Workers Stadium.

"All of us want to do something for these people. As well as donations from ourselves, we hope our performance will encourage more people to join us," said Feng Xiaogang, a leading member of the organizing committee.

Pop singers including Pu Shu, Jing Gangshan, Yu Quan and Huang Zheng have confirmed they will be performing.

The committee has opened an office to accept donations in rooms 2529 and 2524 of the Kunlun Hotel. People can also call 65903388-2529 to donate.

More than 20 of Beijing's newspapers, including China Daily, have signed an agreement to organize another charity show, "Love from China", on Sunday at the Capital Gymnasium.

The Beijing municipal government is in charge of the event..

Tickets are going for 100 yuan (US$12) and all proceeds will go to the Red Cross Society of China. People can call hotline 68511557 to buy tickets or 65139999 to donate money directly.

Zhang Shurong, director at the Big Event Office, said more than 30 singers including big names Song Zuying, Peng Liyuan, Dong Wenhua, Liu Huan, Na Ying, Tian Zhen, Sha Baoliang, He Jiong, Xu Wei and the Twelve Girls Band had confirmed they would perform two hours after the show was decided on Tuesday.

"They all gave immediate responses and showed their eagerness to give help to the victims," Zhang said.

"It is everyone's duty to show charity and offer a hand to those who need help. It's my honour to participate. I hope my songs can help raise money as well as my own donation," pop singer Tian Zhen said.

"People in the disaster area will see that we, the Chinese people, are supporting them. People's care and charity can overcome natural disasters. It is a show for tsunami victims and a show for the people's common futures," said Guangming Daily's Shen Qiang, one of the 20 plus newspapers.

In addition to the gala concerts many ensembles have decided to donate some of the box-office incomes from their latest shows. China's Pingju Opera Troupe will perform "Chang Xia" tomorrow and donate all the proceeds to disaster areas.

The small theatre play "Qing Liu Gan," starring popular TV actress Liu Zi, singer Lin Yilun and students from the Central Academy of Drama, will donate part of their box-office takings.

The company which presented the Lebanon Caracalla Ballet Company's production "Two Thousand and One Nights" has already agreed to give part of its takings. Boxes for collections have been placed at many theatres during performances.




Today's Top News
Top China News

Premier flies to tsunami aftermath summit




Beijing tests DNA from Thailand




Mother's pain tinged with hope




Chinese medical workers join WHO aid team




Artists sing for charity in Beijing shows




Arrows signal aboriginals survived waves