Beijing tests DNA from Thailand
By Qin Chuan (China Daily)
Updated: 2005-01-05 01:02
Beijing experts are preparing to test DNA samples collected from unidentified bodies from Thailand's tsunami-hit areas, officials at the Beijing Genomics Institute at the Chinese Academy of Sciences said.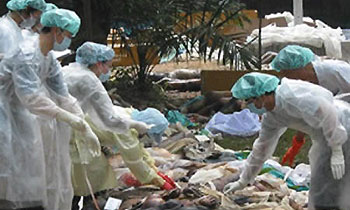 An undated Xinhua photo shows Chinese DNA experts work in Thailand.

The testing will begin immediately upon the arrival of the samples in the coming days, said Yang Xu of the institute's DNA sequencing office told China Daily yesterday.

The results will be saved in a database that will be set up, but details are still uncertain.

The institute, which has been appointed by the Thai Government to do DNA testing for all unidentified bodies found in Thailand's ravaged areas, is capable of testing 4,500 DNA samples a day.

Five Chinese DNA experts sent by the institute to help with the disaster relief work in Thailand arrived in Bangkok early December 31 and are working in Phuket, one of the most seriously damaged regions.

Phuket, one of the worst hit areas, gathered many foreign tourists who remain listed among the missing.

In the future, people will be able to confirm if their relatives died in the disaster in Thailand by comparing their own DNA samples with those saved in the database, Yang said.

It is not yet known just how many samples will arrive at the institute tomorrow.

She said experts from China and other countries are helping the judiciary department collect samples from those killed by the earthquake-triggered giant waves.

"We hope that we can also help other countries hit by the disaster," she added.

The work of DNA experts is tough.

At the Wat Yan Yao temple in Khao Lak, a makeshift morgue, the Chinese experts wear cotton coats, two layers of surgical masks, rubber gloves, plastic aprons and boots, and take photos of decomposed bodies, while examining physical characteristics of the dead despite smothering stench and sweltering tropical weather.

They tag the bodies carefully in order to avoid duplicated DNA tests later.

Deng Yajun, head of the Chinese DNA team, told the Xinhua News Agency that they collected dental and bone samples for DNA tests instead of hair and blood in most cases. Deng said that was because some bodies were already decomposed.

In another development, a 35-member Chinese rescue team headed by the Deputy Director of the China Seismological Bureau Zhao Heping is still busy working in Aceh Province of Indonesia.

On Monday alone, the team treated more than 1,300 victims of the tsunami.

Together with Singapore and South Africa rescuers, they also discovered 16 bodies.

The team left for Indonesia from Beijing on December 30.




Today's Top News
Top China News

Premier flies to tsunami aftermath summit




Beijing tests DNA from Thailand




Mother's pain tinged with hope




Artists sing for charity in Beijing shows




Arrows signal aboriginals survived waves




China pledges to work on yuan reform