Premier flies to tsunami aftermath summit
By Zhao Huanxin (www.chinadaily.com.cn)
Updated: 2005-01-05 00:45
JAKARTA: Premier Wen Jiabao yesterday flew to the capital of the worst tsunami-hit Indonesia to attend an emergency summit on coordinating global aid operations and establishing a catastrophe monitoring system.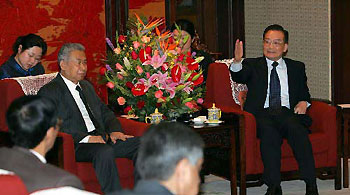 Premier Wen Jiabao meets with ambassadors of tsunami-hit nations in Beijing on January 1, 2005. [Xinhua]

The one-day special meeting, scheduled to open today, is initiated by the Association of Southeast Asian Nations (ASEAN), and participated in by more than 20 heads of state and representatives of international organizations.

"I do not have a big entourage come with me this time, but I'm flying (here) with 16-ton relief materials, as well as the kind affections of Chinese people," Wen said after his plane touched down at the Halim airport in Jakarta yesterday evening.

The "urgently needed" materials include food, medicine and disaster relief equipment, Foreign Ministry spokesman Liu Jianchao said, adding the premier had asked delegation members to have lean luggage with them so that their plane may carry more aid stuff.

The premier said he will discuss with other participants of the international conference on ways to reinforce the disaster relief operations and to make them proceed in a highly-efficient and orderly fashion.

In addition, the gathering will look into mechanism of monitoring and preventing future natural catastrophes including earthquakes and tsunamis, he said.

The earthquake-triggered tidal waves late December have caused untold death and destruction to countries on the Indian Ocean's rim from Indonesia to Somalia.

China pledged to offer an additional 500 million yuan (US$60.46 million) in humanitarian aid last Friday, following an initial contribution of US$2.62 million.

Wen said the Chinese Government will put forward its own proposals on today's summit.

"We have made promises, and we mean what we said as we always did," he said.

Also last night, the premier made a phone call to a Chinese rescue team which is among the first international aid missions to reach the worst afflicted Aceh Province of Indonesia.

Since they arrived at the tsunami-devastated area on December 31, the 35-member task force have treated more than 3,000 patients and found dozens of victims' bodies.

Speaking highly of the rescue members' arduous yet glorious work, Wen said it is China's obligatory duty to render hands to those affected by natural calamities.

The premier wrote a New Year's card to each of the Chinese rescue team members.

Also last night, Wen held separate talks with Indonesian President Susilo Bambang Yudhoyono, President of Republic of Maldives Maumoon Abdul Gayoom, South Korean Prime Minister Lee Hae-chan, Foreign Minister of Thailand Surakiart Sathirathai, and Foreign Minister of Sri Lanka Lakshman Kadirgamar.




Today's Top News
Top China News

Premier flies to tsunami aftermath summit




PLA troops active in tsunami relief




US$3 million private aid ready for victims




US military denies arrest of al-Zarqawi




China pledges to work on yuan reform




Chinese main guests at N.Korea casino