Car bomb explosion kills 20 in Baghdad
(Agencies)
Updated: 2005-01-05 20:22
BAGHDAD, Iraq - A car bomb exploded outside a police academy south of Baghdad during a graduation ceremony Wednesday, killing at least 20 people, police said. Hours earlier, another car bomb killed two Iraqis in the nation's capital.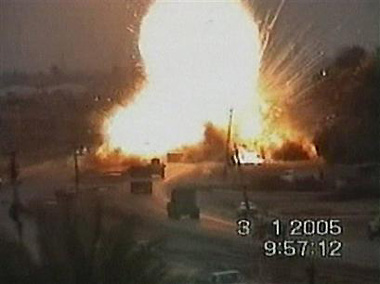 This is a still taken from a video supplied by an Iraqi insurgent group calling itself 'Omar ibn Alkhatab brigade attached to the Islamic Anger Brigades' in Iraq, which the insurgents claim shows a stationary vehicle exploding as an American convoy passes on the northern outskirts of Baghdad, Iraq Monday Jan. 3, 2005. [Reuters]

The explosion outside a gate of the police academy in Hillah, about 60 miles south of Baghdad, was the latest in a string of attacks against Iraqi security forces. Capt. Hady Hatef said it killed at least 20 people and wounded unspecified number.

The number of Iraqi policemen killed in the last four months of 2004 was 1,300 before the latest blast, according to the Iraqi Interior Ministry figures released Wednesday. It was unclear if all the 20 killed were police.

The Iraqi police and security troops represent a soft target for the insurgents because of their poor training and equipment compared to the U.S.-led coalition forces. The militants consider Iraqi soldiers as collaborators with the American occupiers.

Earlier Wednesday, an explosives-filled car following a convoy of U.S. and Iraqi troops detonated in Baghdad's western district of Amiriyah, killing two Iraqi civilians and wounding 10, police officials said. No troops were hurt.

The attack also came as a funeral procession was held nearby for slain Baghdad governor Ali al-Haidari, who was known for cooperating closely with U.S. troops. Al-Haidari was killed on Tuesday. It was not clear if Wednesday suicide car bomb was targeting the mourners, which included Iraqi officials, or the convoy of troops.

In a third attack Wednesday, gunmen killed Iraqi police Col. Khalifa Hassan and his driver as they headed to work in the restive city of Baqoubah, 30 miles northeast of Baghdad, Dr. Ahmed Fouad of the Baqoubah General Hospital said.

Also, four Iraqi civilians were killed and two others were injured when U.S. soldiers opened fire after their convoy was attacked by rocket-propelled grenades in central Ramadi, 60 miles west of Baghdad, according to Dr. Riyad al-Hiti of the Ramadi hospital. The U.S. military had no immediate information about the incident.

A U.S. soldier belonging to Task Force Olympia was killed and two were wounded after their patrol was attacked with small arms and rocket propelled grenade fire Tuesday afternoon in Tal Afar in northern Iraq, the U.S. military said Wednesday.

Five other U.S. servicemen died in three separate attacks on Tuesday, making it the deadliest day for the U.S. military in Iraq since the suicide bombing at a mess tent in Mosul on Dec. 21, an attack that killed 22 people including 14 U.S. soldiers and three American contractors.

Wednesday's violence brought the death toll in the last for days to more than 90, mostly Iraqi security. Despite the bloody insurgency, which U.S. troops and Iraqi security forces have been helpless to prevent, American and Iraqi leaders insist the Jan. 30 vote would go forward.

White House spokesman Scott McClellan on Tuesday acknowledged security "challenges" in Iraq but said the election timetable would not be changed.

Prime Minister Tony Blair on Wednesday said he remains committed to holding elections as scheduled.

"I am committed to it, yes, because I think it is extremely important that the terrorists don't gain a victory," Blair said in an interview on British Broadcasting Corp. radio. "The vast majority of Iraqis want to participate in these elections."

Many areas of Iraq are calm, but vast regions, including the capital, are extremely dangerous. In places like Fallujah, which was bombed to ruins in a U.S.-led campaign in November, and the northern city of Mosul, there has been little headway in preparing for the vote.

The attacks have prompted Sunni Arab clerics to call for a boycott, and Iraq's largest Sunni political party announced it was pulling out of the race because of poor security.

The country's Shiites, many of whom are in the government, want to take power but they also want the Sunnis to participate in the vote. A low turnout because of the fear of violence or a Sunni boycott could undermine the legitimacy of the country's first free elections since 1958.




Today's Top News
Top World News

World leaders in Jakarta for tsunami crisis talks




PLA troops active in tsunami relief




US$3 million private aid ready for victims




US military denies arrest of al-Zarqawi




China pledges to work on yuan reform




Chinese main guests at N.Korea casino