Chinese main guests at N.Korea casino
(Agencies)
Updated: 2005-01-05 16:01
Chinese tourists, including some Party and government officials, are squandering hundreds of millions of yuan each year at a North Korean five-star hotel and casino, state media said on Wednesday.
Every day, more than 100 Chinese travel across the Tumen River to the neighbouring Rajin-Sonbong Free Trade Zone to gamble in the Hong Kong-built Emperor Hotel and Casino, the Beijing News said.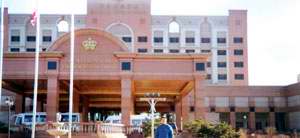 Emperor Hotel in Rajin-Sonbong. [Beijing Times]
"All who go to the Emperor are completely Chinese," a local police official was quoted by the paper as saying.
Gambling, along with prostitution and drugs, are illegal in China. While still officially illegal, betting at horsetracks has reemerged and Chinese regularly place their bets on soccer teams. Casinos are the lifeblood of tiny Macao, which returned from Portuguese to Chinese rule in 1999.
Two years later, a Shenyang mayor was handed a suspended death sentence and a vice-mayor executed for gambling away millions of dollars of public funds in Macao.
Gambling in North Korea has become a hot topic in China since a Chinese official was found to have fled after squandering 3.5 million yuan (US$423,000) in public and borrowed money on gambling junkets to the same casino last month.
Authorities are still hunting the official, Cai Haowen, former head of traffic and transport management in the Yanbian Korean Autonomous Prefecture in northeastern Jilin Province, state media reported.
About 50,000 Chinese -- some 30 percent of whom are officials -- visit the Emperor every year, with each of them spending at least 5,000 yuan, the paper cited Yanbian's
anti-corruption official as saying.
The Party's corruption watchdog in the Yanbian region has asked local officials to learn from Cai's case.
"In the future, when government officials are found gambling they will be sacked. If they are found gambling abroad they will be expelled from the Party," said a public notice last month.

Li Jingmin, an official with Yanbian Discipline and Inspection Commission, said the local government was investigating Party members and officials suspected of being involved in gambling, the paper said.
"We know some have borrowed public money and not yet returned it," Li said.
The five-star Emperor opened in August 2000 and houses slot machines, blackjack, baccarat, roulette and the dice game 'Sic Bo', said its Web site.
Today's Top News
Top China News

PLA troops active in tsunami relief




Al-Zarqawi reportedly arrested in Iraq




US$3 million private aid ready for victims




Chinese avoid weddings in Year of Rooster




Chinese main guests at N.Korea casino




Shares greet 2005 by ending at 5-year nadir