Annan shakes up top UN staff
(Agencies)
Updated: 2005-01-05 10:26
After a year of scandal that sullied the UN's image, Secretary General Kofi Annan announced a management shake-up with a new chief-of-staff who will play a key role in managing the media.
Annan promised the suprise move, announced unusually while the United Nations is trying to cope with the massive tsunami relief effort, would not take away from vital, round-the-clock work going on in devastated Asia.
"This is the first in a series of changes," Annan said as he presented Mark Malloch Brown, currently head of the UN Development Programme (UNDP), as his new chief of staff effective on January 19.

United Nations Secretary General Kofi Annan (L) speaks about the relief efforts for the Asian tsunami disaster with UN emergency relief coordinator Jan Egeland at UN headquarters in New York. [AFP]

With what UN officials say is a reconstruction effort in affected Asian countries that could require hundreds of billions of dollars, Annan said Malloch Brown would stay on as UNDP chief for the time being.

He said he would "make sure" that the appointment does not have a "negative impact" on the crucial relief effort.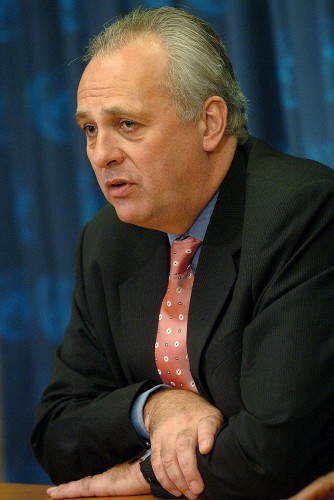 Mark Malloch Brown, administrator of the UN Development Program (UNDP) and newly appointed chief of staff of UN Secretary-General Kofi Annan, addresses a press conference at the UN headquarters in New York Jan. 3, 2005. Kofi Annan said the appointment was part of a planned reshuffle of the world body's management. Brown will start on Jan. 19 to take the place of the 70-year-old Pakistani, Iqbal Riza, who will soon retire after having served as chief of Annan's cabinet for seven years. [people.com.cn]

But Malloch Brown made clear that he had been asked by Annan to take on a media role at a time when the United Nations has been buffeted by staff unrest and scandal that led some US politicians to call for Annan's resignation.

"A modern, global public organisation of this kind has to understand that there are many news cycles a day, that to get your message out requires ... a vigorous, rapid response," Malloch Brown said.

He said he would be "someone pushing for a quick response to issues, a response of a substantive and open and forthcoming kind" and would have a "much more prominent role" as a spokesman for Annan and the United Nations.

The UN's communications operation has been criticised for its sluggish response to damaging allegations about the Iraq oil-for-food scandal, charges of sexual exploitation by peacekeepers in the Congo and other issues.

Last month Annan called 2004 an "annus horribilis," the Latin phrase for horrible year made famous by Britain's Queen Elizabeth, and the evolving scandals have detracted from his push for a major UN overhaul this year.

Malloch Brown replaces Iqbal Riza, Annan's longtime right-hand man whose retirement was quietly announced in December just before the Christmas holiday.

Riza was Annan's deputy in 1994, when Annan was head of the UN peacekeeping operation that could not -- critics charge did not -- prevent the genocide in Rwanda that left some 800,000 dead.

Annan refused to confirm a New York Times report that his top political officer Kieran Prendergast could also be on the way out to take over as senior envoy for the floundering Middle East peace process.

"I must admit that I do intend to make further changes, changes that would affect senior people already in the building," he said.

He also played down a query about bringing in more US staff sympathetic to the Republican administration of US President George W. Bush, which has sparred with Annan over oil-for-food and the Iraq war that Annan called illegal.




Today's Top News
Top World News

PLA troops active in tsunami relief




US$3 million private aid ready for victims




Chinese avoid weddings in Year of Rooster




Shares greet 2005 by ending at 5-year nadir




Baghdad governor slain; 5 US troops die




More cold fronts expected this month