Shares greet 2005 by ending at 5-year nadir
(Agencies)
Updated: 2005-01-05 10:17
China's shares fell 1.9 percent to end the first session of 2005 at their lowest in more than five years, as investors dumped auto and petrochemical stocks on worries over earnings prospects.
The benchmark Shanghai composite index finished at 1,242.774 points, its lowest close since May 26, 1999, when it ended at 1,236.05.
Analysts said selling in large-cap petrochemical and car counters came amid ebbing confidence. The index had lost 15 percent in 2004 to become Asia's worst performer, hit by Beijing's economic-cooling steps and a series of corporate scandals.
"Sentiment is very weak, with the five-year low being broken easily," said analyst Shen Jianmin at Galaxy Securities. "There's little hope the market could reverse its weakness soon."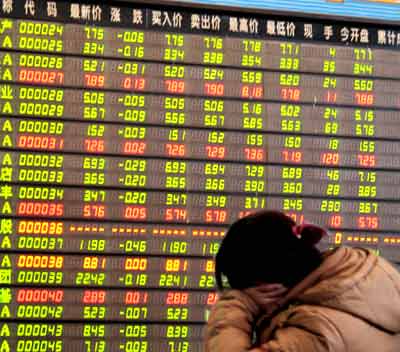 A woman looks at an electronic board of the Shanghai Stock Exchange at a brokerage in Beijing in Liaocheng, East China's Shandong Province January 4, 2005. [newsphoto]
Chongqing Changan Automobile Co. , China's fourth-largest auto manufacturer, was one of the biggest decliners. Its yuan-denominated A shares, open to select foreign investors, fell their 10 percent daily limit to end at 5.15 yuan.
Shanghai Automotive Co. Ltd. , owner of 20 percent of General Motors' Shanghai car plant, closed down 3.2 percent at 4.60 yuan.
"Bad news has kept on coming over the past few months on a slowdown of the auto industry, sparking a dumping in such stocks," said analyst Hu Weitao at Eagle Securities.
In the latest, sales at Volkswagen AG's car-making ventures in China fell six percent in 2004 to about 655,000 units, executives at the two ventures said on Tuesday, after surging 36 percent to 698,000 units in 2003.
Refiners were also big losers on Tuesday.
Sinopec , Asia's top oil refiner and the largest stock on mainland bourses, was one of the most active counters, falling 3.2 percent to 4.22 yuan.
Analysts said its slump reflected concerns that its earnings would be affected by several price cuts in petrol and diesel fuel since early December that might spill over to subsidiaries.
Qilu Petrochemical Co. Ltd. plummeted its daily limit of 10 percent to 6.36 yuan, its lowest in over a year. Another Sinopec unit, Shanghai Petrochemical Co. Ltd. , tumbled 8.4 percent to 4.60 yuan.
Today's Top News
Top China News

PLA troops active in tsunami relief




US$3 million private aid ready for victims




Chinese avoid weddings in Year of Rooster




Shares greet 2005 by ending at 5-year nadir




Baghdad governor slain; 5 US troops die




More cold fronts expected this month