Scientists: Volcano could swamp U.S. with mega-tsunami
(Agencies)
Updated: 2005-01-05 10:12
A wall of water up to 55 yards high crashing into the Atlantic seaboard of the United States, flattening everything in its path -- not a Hollywood movie but a dire prophecy by some British and U.S. academics.
As the international community struggles to aid victims of last month's devastating tsunami in southern Asia, scientists warn an eruption of a volcano in Spain's Canary Islands could unleash a "mega-tsunami" larger than any in recorded history.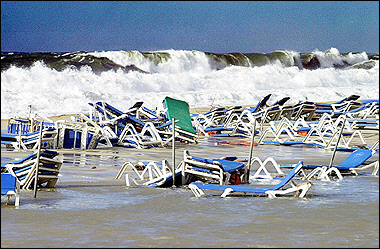 Hammocks almost buried at the beach of Pajara district in Fuerteventura island (Canary Island), southern Spain. Countries all around the Atlantic rim could be hit by killer tsunamis at any time between now and the next 10,000 years, the British government's chief scientific adviser said.[AFP/file]

According to their controversial study, an explosion of the Cumbre Vieja volcano on the island of La Palma could send a chunk of rock twice the size of the Isle of Wight into the Atlantic at up to 220 miles an hour.

Many experts believe the risk of "mega-tsunamis" from such a massive landslide on La Palma has been hugely overstated.

But in the study's scenario, energy released would equal the electricity consumption of the United States for six months, sending gigantic tidal waves across the Atlantic at the speed of a jet plane.

Devastation in the United States would reach trillions of dollars with tens of millions of lives at risk. Spain, Portugal, Britain, France, Brazil, the Caribbean and West Africa would also be swamped by giant waves.

"It may occur in the next eruption, which could be next year, or ... it may be 10 eruptions down the line," said Bill McGuire of Britain's Benfield Hazard Research Center.

Cumbre Vieja, which last exploded in 1971, typically erupts at intervals of between 20 and 200 years.

"We just don't know when it will happen, but are people prepared to take the risk after the Indian Ocean events?" McGuire said, calling for a program to monitor the slide in Cumbre Vieja's flank.

"We need to get people out in advance of the collapse itself. Once the collapse has happened, the Caribbean would have 9 hours, the U.S. 6 to 12 hours to evacuate tens of millions of people," he said.

SCAREMONGERING?

Other experts say such predictions about La Palma or the Hawaiian volcano of Kilauea are grossly exaggerated.

The Tsunami Society, an international association of experts, dismisses such theories as "scaremongering." It argues Cumbre Vieja would not collapse in a single block and the wave generated would be much smaller.

"We are talking about thousands of years in the future. Anything could happen. An asteroid could also fall on earth," George Pararas-Carayannis, founder of the Tsunami Society, said.

Many wave experts believe tsunami from abrupt landslides dissipate more quickly than those generated by powerful earthquakes, like the Dec. 26 quake off Indonesia which stretched thousands of miles along the ocean floor.

Charles Mader, editor of the Science of Tsunami Hazards journal and an expert on wave modeling, predicts that even in the event of a massive landslide on La Palma the tsunami reaching North America would be no more than 1 meter high.

But McGuire stands by the wave modeling for the La Palma tsunami, carried out by Steven Ward of the University of California.

As the world reels from the Indian Ocean disaster, which killed more than 150,000 people, oceanographers and geologists agree the threat of tsunamis has been underestimated.

"It would not surprise me at all if tomorrow we saw another tsunami like this," said Pararas-Carayannis, pointing to faults off Portugal, Puerto Rico and Peru as possible risks.

For McGuire, a warning system in the Indian Ocean could have completely prevented loss of life in Sri Lanka and India from south Asian tsunami, as in most cases people would only have had to travel 1 kilometer inland to avoid the waves.

He ranks tsunami risk as second only to global warming in the hazards facing the planet.

"With coastlines massively built up now, particularly in developing countries, tsunami are a big problem because, unlike earthquakes, they transmit death and destruction across entire oceans," he said.




Today's Top News
Top World News

PLA troops active in tsunami relief




US$3 million private aid ready for victims




Chinese avoid weddings in Year of Rooster




Shares greet 2005 by ending at 5-year nadir




Baghdad governor slain; 5 US troops die




More cold fronts expected this month