PLA troops active in tsunami relief
By Hu Xiao & Tonny Chan (China Daily)
Updated: 2005-01-05 01:14
As world raced to supply food and water to millions of tsunami victims, the Chinese army has been active in what may be the country's largest peacetime overseas humanitarian mission ever.
Across China, people of all ages were making donations.
Though the toll of Chinese deaths stood unchanged at 12 yesterday, the fate of the missing caused much concern.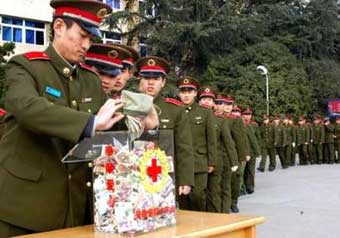 Cadets and officers of the Electronic Engineering Institute of the People's Liberation Army make donations in Hefei in east China's Anhui province January 4, 2005 to the tsunami-hit countries in Asia. The Anhui Red Cross called on residents of the province to offer a helping hand to the tsunami survivors in South and Southeast Asia. [newsphoto]

In Hong Kong, the official total of missing local residents dropped from 74 to 70 after four people were contacted. But the management is worried of 58 students missing from schools in the past two days, said Deputy Secretary for Education and Manpower Cheng Yan-chee.

Aircraft carrying more than US$7.6 million worth of Chinese mainland's relief materials as well as others from Hong Kong have been sent to the afflicted region in the past week.

The Ministry of National Defence and the General Logistics Department of People's Liberation Army are involved in relief operations in Indonesia, Sri Lanka, India and Thailand, the hardest hit areas. The next destination will be the Maldives.

Since the tragedy, the army has airlifted nearly 500 tons of food, water, milk powder, blankets, tents, clothing, generators, telecommunication equipment, medical tools and medicines.

A task force was sent to some provinces in China to collect goods on December 27. The first batch of Chinese relief supplies arrived in Sri Lanka on December 29 and the second batch, on January 3, said Senior Colonel Guan Youfei, who is co-ordinating the operation.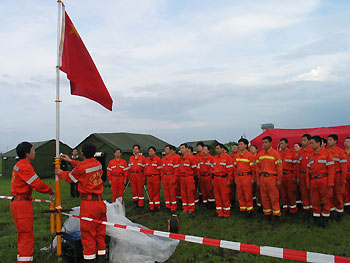 Members of one of China's medical teams gather to hold a flag-raising ceremony in Indonesia on January 2, 2005. With a total of 16 members , this team includes 13 doctors, 2 nurses and a technician. [newsphoto]

Guan told China Daily the food dispatched is all the most fresh available in consideration of local hot weather.

"All the corporations we contacted answered the call for producing relief supplies immediately," he said, adding besides the capital city, nearby provinces also provided a large number of goods.

Within such a short preparatory time, nearly everything is under consideration. Guan and his colleagues have even contacted several Islamic food corporations to produce relief supplies for the Muslims in hit areas.

"The next batch of supplies will be medicines, rice, and water dispensers," said Guan, adding the Chinese have always keep contact with those affected areas so as to maintain an understanding of precisely what is needed.

The military frequently provides humanitarian aid abroad, though always on a much smaller scale as is currently the cases in Afghanistan and in Democratic People's Republic of Korea.

Zhang Bangdong, director of the foreign affairs office at the ministry, said it was the largest disaster relief mission undertaken abroad by the Chinese military in decades and possibly the largest in the history of the army.

Defence Minister Cao Gangchuan said earlier the Chinese Government has shown great concern over the situation in the tsunami-hit countries.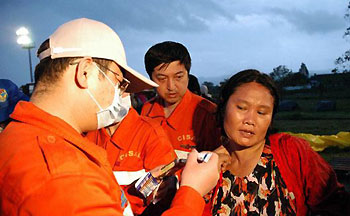 Memebers of China's medcial team treats a local Indonesian woman on January 3, 2005. [newsphoto]

Cao said his ministry will provide financial assistance, including donations from Chinese military officers and servicemen to support relief and reconstruction work.

Watch on pledges

United Nations relief co-ordinator Jan Egeland and UN Secretary-General Kofi Annan, said 45 nations had pledged contributions to the relief effort so far but said they were concerned much of the money would not materialize.

"If we go by past history, yes, I do have concern," Annan said. "We've got over US$2 billion but it is quite likely that at the end of the day we will not receive all of it."

Annan cited shortfalls in aid promised after the Bam, Iran earthquake in December 2003, where money fell short of pledges.

"I think we stand a better chance of getting a substantial portion of the pledges and contributions that have been made, but I will not be surprised if we do not get all the money. That is the history we live with," Annan said.

At the same time, officials called on the world to remember other people in need.

"The rich world should be able to foot the bill for feeding all the children in the world," he said. "It's one day's worth of military spending," Egeland said.

"We will follow up and we will hold those pledging to their pledges."

Egeland said, while applauding the international response so far as "truly overwhelming."

Paris Club memo

Britain, which has assumed the presidency of the G8 group -- consisting of Canada, France, Germany, Italy, Japan, the United States, Russia and Britain -- called for an immediate moratorium on debt repayments by nations hit by the tsunami.

"That would then lead to an analysis of the debt needs of these countries with the possibility of some write-off of debt,'' Gordon Brown, the Chancellor of the Exchequer (finance minister), told BBC Radio.

Brown is hoping that a deal, which has the backing of the United States, will be announced at a meeting of the Paris Club of sovereign lenders when it meets on January 12.

While survivors of last week's Indian Ocean tsunami are still suffering from horrific physical injuries, doctors are beginning to report more and more cases of diarrhea, dehydration and mental trauma,.

People not only risk infections such as gangrene from their injuries, they are also facing respiratory complications and psychological trauma,said Dr John Howe, president and chief executive officer of Project HOPE.




Today's Top News
Top China News

PLA troops active in tsunami relief




Al-Zarqawi reportedly arrested in Iraq




US$3 million private aid ready for victims




Chinese avoid weddings in Year of Rooster




Shares greet 2005 by ending at 5-year nadir




Baghdad governor slain; 5 US troops die