Pakistan troops trade heavy fire exchange across Afghan border
(Agencies)
Updated: 2005-01-04 21:15
ISLAMABAD - Tension flared on the hazily-defined border between Pakistan and Afghanistan following an exchange of heavy fire between the two sides, a Pakistani military spokesman said.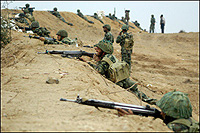 Tension flared on the hazily-defined border between Pakistan and Afghanistan following an exchange of heavy fire between the two sides(AFP)

The Saidgai area of Pakistan's mountainous North Waziristan region came under fire from "heavy weapons" from across the border, military spokesman Major General Shaukat Sultan said on Tuesday.

"Since it was targeted fire from the other side with long-range machine guns, our troops responded," Sultan told AFP.

He said it was difficult to say who launched the attack but said Pakistani forces used artillery to let those responsible know that "we will not tolerate this nuisance."

"This was a totally unprovoked and uncalled for attack. They had to be sent a message that we will not tolerate this," he added.

Military officials said they did not know who fired from the Afghan side, but local officials in Miran Shah, the main town in the tribal area, blamed unruly former Northern Alliance elements in the Afghan army.

The duel came a day after mortar rounds fired from the Afghan side killed a Pakistani soldier and wounded three others in the same area. Pakistan on Monday asked US-led coalition forces in Afghanistan to investigate the incident.

Parts of the border between the two countries, known as the Durand Line after a treaty signed between the Afghan king and British India in 1893, remain disputed by Kabul and the issue has been the source of continued friction.

Residents on the Pakistani side of the largely porous border said the exchange of fire may have caused about a dozen casualties on the Afghan side but the military had no details.

"There were no casualties on the Pakistan side. We have no knowledge about any casualties on the other side," the general said.

The inhospitable Pakistan-Afghanistan frontier is regarded by the United States as a front line in its "war on terror" and a possible hiding place of Al-Qaeda mastermind Osama bin Laden.

Thousands of Pakistani troops are in the turbulent South Waziristan tribal area hunting down militants believed to have fled Afghanistan after a US-led invasion toppled the Taliban regime in late 2001.

The US-led coalition has more than 18,000 troops in Afghanistan, mainly fighting Taliban and Al-Qaeda-linked militants in southern and southeastern areas next to the frontier with Pakistan.

In 2003 the United States stepped in to defuse another border row when Afghan tribesmen claimed Pakistani troops had set up anti-militant checkpoints deep inside their territory.

A mob later attacked Pakistan's mission in Kabul.




Today's Top News
Top World News

Taiwan urged to agree to festival flights




Wen visits miners, vows to curb big accidents




Relief in focus as survival hopes fade




Baghdad governor shot dead; bombing kills 10




Population to hit 1.3 billion this week




Last year's job market tough nut to crack