Paramilitary leader surrenders in Peru
(Agencies)
Updated: 2005-01-04 21:15
The leader of an armed nationalist group that seized a remote Peruvian police station, took 10 officers hostage and allegedly killed four others was detained while most of his 125 followers were rounded up early Tuesday, officials said.
Former army Maj. Antauro Humala was in custody after turning himself in to National Police chief Felix Murazzo at this town's municipal building, a government spokeswoman told The Associated Press. She said about 90 of his followers also laid down their arms and were turning themselves in.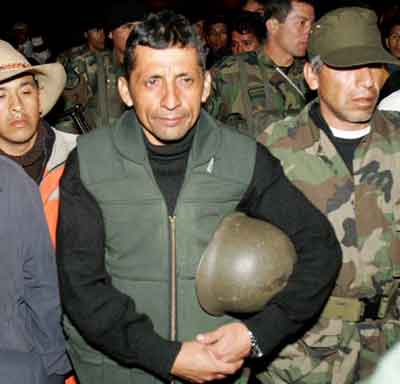 Former army Major Antauro Humala (2nd L) is escorted by Peruvian soldiers before meeting in the southern Andean town of Andahuaylas, January 3, 2005. Peruvian authorities arrested a former army major who led a three-day uprising in a southern Andean town and vowed on Tuesday to storm the police station where his followers remained holed up unless they surrendered soon. [Reuters]

"He came with the idea of surrendering himself but a group of his followers weren't in agreement," the interior ministry spokeswoman said on condition of anonymity.

A rebel reached by the Peruvian radio station Radioprogramas said Humala "was betrayed" by the government negotiators who arrested him.

The man, who said he was the group's new commander, told Radioprogramas that the remaining rebels wanted to negotiate a surrender but did not trust the government.

"We simply want to discuss the terms of laying down our arms, nothing more," he said. "Yesterday two of our reservists were killed by army sharpshooters," four of whom he said were captured by the rebels.

He said the International Red Cross was the only mediator the group could trust "to provide sufficient guarantees for us to leave here on our feet."

About 35 gunmen remained barricaded in the station as police surrounded the building late Monday, the ministry spokeswoman said. "It appears they are angry and some of them have been drinking."

Police ordered reporters into a nearby hotel and soon after the crackle of automatic gunfire could be heard outside.

The spokeswoman said security forces did not storm the building, fearing the rebels would harm 10 officers held hostage since Saturday and five soldiers captured on Monday.

However the government was clearly beginning to lose patience. Prime Minister Carlos Ferrero demanded the holdouts lay down their arms and release the hostages.

"If this does not happen, it is the obligation of the government to re-establish order and it will with the combined force of the police and armed forces," he told reporters at the government palace early Tuesday.

The standoff began Saturday when the gunmen took over the police station in this Andean town, about 275 miles southeast of the capital, Lima. Five police officers were wounded and 10 others were taken hostage.

A day later, authorities said, the group ambushed a police vehicle, killing four officers and wounding several others. A gunman was fatally wounded in the attack, local media reported.

The group, which wants to establish a nationalist indigenous movement modeled on the ancient Incan Empire, has demanded the resignation of President Alejandro Toledo, accusing him of selling out Peru to business interests in Chile, a historic rival.

Toledo refused to step down, and instead declared a state of emergency and sent 1,000 troops to the region. Humala was detained just hours after he withdrew an earlier offer to lay down his arms, claiming the government had violated the terms of the deal.


Ferrero said Humala was trying to re-negotiate terms of surrender for his followers and gave up without resistance when authorities rejected his conditions.

Humala enjoys strong local support. Thousands of residents converged on the town square Monday, demanding a peaceful settlement. At one point Humala joined them, during what he claimed was a three-hour truce agreed to by police.

However shooting broke out on his return to the police station. Humala told Radioprogramas that government snipers opened fire, killing one of his men and wounding another. Humala claimed a young resident of the town was also killed. He said his men captured some of the sharpshooters, presumably the five soldiers.

Humala is the brother of Lt. Col. Ollanta Humala, who was recently forced to retire from his post as a military attache at the Peruvian Embassy in South Korea.

In October 2000, the Humala brothers led 50 followers in a short-lived military uprising, a month before the collapse of former President Alberto Fujimori's corruption-ridden, 10-year regime.

The revolt failed to spark the wider rebellion the brothers had hoped for in barracks across the nation. The Humala brothers and their followers were granted amnesty in December 2000 by Peru's Congress.

Ollanta Humala was transferred for overseas duty, while Antauro Humala forged a small, but vocal, political movement in his brother's name.

Toledo, who took office in July 2001 with a popularity rating of nearly 60 percent, has tried to distance himself from a series of corruption scandals during the past year. His approval rating has sunk to about 9 percent.




Today's Top News
Top World News

PLA troops active in tsunami relief




US$3 million private aid ready for victims




Chinese avoid weddings in Year of Rooster




Baghdad governor slain; 5 US troops die




More cold fronts expected this month




Festival exodus starts; Peak at month end