Thousands need water in Aceh, disease emerges
(Agencies)
Updated: 2005-01-04 20:24
BANDA ACEH, Indonesia - Hungry and filthy, Indonesians queued for water in their thousands on Tuesday as aid deliveries to tsunami-ravaged Aceh province hit new snags and cases of disease and infection among survivors emerged.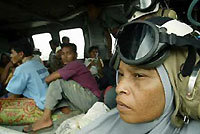 An Acehnese woman wears a crewman's helmet and goggles aboard a U.S. Navy helicopter after being evacuated from her tsunami-hit village on Aceh's west coast January 3, 2005. U.S. helicopters shuttled the injured and the homeless, many of them children, out of some of the worst-hit parts of tsunami-devastated Indonesian Aceh province, as reports surfaced of trafficking in orphans from the disaster. [Reuters]

The World Health Organization (WHO) said cases of pneumonia, diarrhea, malaria and skin infections were emerging along with some cases of gangrene because survivors had been exposed to polluted water and not treated carefully enough.

Vijay Nath, a WHO medical officer supervising the emergency response program in Banda Aceh, said he had a fairly good picture of the health situation in the provincial capital and there had been no confirmed cases of cholera.

"But on the west coast, we just don't know what is happening," he said.

Parts of Banda Aceh city were deserted, especially the downtown area near the waterfront, where buildings were flattened by the massive Dec. 26 quake and killer waves. Small fires smoldered in a desperate attempt to burn stacks of debris.

In front of a collapsed shopping mall where food and water were being distributed, at least 1,000 people queued for water from a private aid station set up by businessmen.

Volunteers handed out rice, marking people's fingers with ink that would wash off after a day to allow them to collect more.

Residents said that, outside the huge makeshift refugee camps, it was still a struggle to get adequate food and water for their families, many of whom were injured or sick.

"If you don't live in a refugee camp, you have to queue like this. It's very hard for us also out here," Ramzi, 27, told Reuters as he queued for water. He said he and 15 relatives were living in a house undamaged by the tsunami.

The Health Ministry said nearly 400,000 people were refugees in Aceh, a province of about four million at the northern tip of Sumatra. More than 94,000 were killed in Indonesia, two thirds of the total toll of nearly 145,000.

HEAVY-LIFT HELICOPTERS

The main airport in Banda Aceh, a key hub for relief flights, was closed to fixed-wing aircraft for much of Tuesday after a cargo plane's landing gear collapsed in the early hours. The plane was finally dragged off the runway in late afternoon.

While the vital runway was out of action, helicopters continued to fly in and out, but a Singaporean soldier said a backlog of aid-laden planes built up in Medan, 280 miles to the southeast.

A U.S. Marine amphibious group with three vessels and 10 helicopters was off the coast of Medan, ready to load supplies from the city and take them over to northern parts of Sumatra, hit hardest by the earthquake and tsunami.

The helicopters are heavy- and medium-lift types and some can carry up to four times the load of the Seahawks currently involved in the U.S. relief operation in Banda Aceh, said Major Dwight Neeley with the 3rd Marine Division.

He said the helicopters would fly in to Medan, load up supplies and fly back to the ships, which would then sail to Meulaboh, a town flattened by the tsunami where estimates of the dead have ranged as high as 40,000.

In Banda Aceh city earlier, an Australian military water purification station doled out large plastic bags of water.

A machine the size of a large truck stood near 11 big black plastic tubes full of water. Indonesian soldiers with assault rifles stood on guard.

"This is probably the most important thing. If they can get clean water, it's going to have a major impact," Australian air force Corporal Peter Clarke said.

"People want to shake your hand. They say 'bless you mister'. They say 'Indonesia has problems, but you help us'."




Today's Top News
Top World News

Taiwan urged to agree to festival flights




Wen visits miners, vows to curb big accidents




Relief in focus as survival hopes fade




Baghdad governor shot dead; bombing kills 10




Population to hit 1.3 billion this week




Last year's job market tough nut to crack