Students prove a large market force
(China Daily)
Updated: 2005-01-04 14:39
Zhang Jie, 21, a junior student at Xi'an University of Finance and Economics in the capital of Northwest China's Shaanxi Province, spends more than 5,000 yuan (US$604) every semester.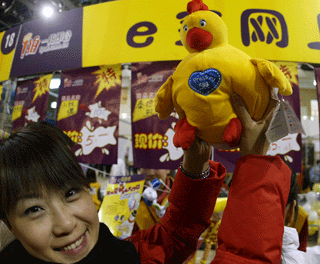 A student raises high a chicken-like doll at an offline sales hosted by online auction portal www.1pai.com.cn at the Renmin University of China in Beijing. [newsphoto]


"The tuition fee costs about 3,200 yuan (US$386), and other expenditure is 400 to 500 yuan (US$48-60) a month," Zhang said.

Such a figure, her annual consumption, is higher than the average disposable income of Chinese urban residents, which is 8,472 yuan (US$1,023) a year.

Contemporary Chinese undergraduates have huge consuming power, concludes a report released last week by Sinomonitor, a Sino-Japanese independent market monitoring company, and China Youth Zeitgeist Cultural Co Ltd, a domestic media firm specializing in university students.

The report is based on a sample survey which was conducted among 10,000 students of 126 colleges and universities in 34 major cities from June to September last year.

The study, called Consumption and Lifestyle Study on 21st Century Chinese Undergraduates, covers more than 30 kinds of products and services, as well as undergraduates' ideas about brands, fashion, media and lifestyles.

Among the people surveyed, 62.7 per cent are male students, and 58.2 per cent are from cities.

"This is very important research, and so far the only specializing in Chinese university students," said Zhang Zhongliang, director of the China Economic Monitoring Centre affiliated to the National Bureau of Statistics.

According to Zhang, currently it is domestic consumption which is most important in supporting the country's economic development, and university students are key to domestic consumption.

On one hand, university students are potentially big consumers after they graduate. On the other hand, they affect consumption trends in the domestic market, Zhang said.

Statistics indicate that the number of university students in China has increased rapidly in recent years, from 1.08 million in 1998 to more than 17 million in 2003.

And as the country continues to enlarge its recruitment for higher education, the figure will keep growing.

Though they are still a small part of the total Chinese population, university students are big consumers as well as a group which has the most potential purchasing power in the near future.

According to the sample survey, the average disposable income for current undergraduates is 4,919 yuan (US$594) per semester.

"The survey results could cover over 10 million students in the 126 universities and colleges in the 34 major cities," said Ma Qiji, deputy general manager of Sinomonitor.

Of their total earnings, 44 per cent is from family funds, 17.4 per cent is from grants and loans, and 10 per cent is earned by themselves.

The students spend almost all their incomes, the study shows.

Like college student Zhang Jie, tuition fees and expenses for articles related to their study account for a big part.

The average figure around the country is about 1,801 yuan (US$218) per term, according to the survey.

The second biggest amount is for foods, drinks and cigarettes.

Despite their basic living expenditures and study costs, current undergraduates pay more for Internet connections, telecommunications, after-course training, tourism and some networking activities.

Most of the students are reasonable about their consumption. About 67 per cent of the surveyed could make ends meet, and 22.4 per cent of students have deposits in banks.

But as the awareness of credit consumption becomes more widespread among society, and banks provide convenient services to university students, more and more students are borrowing money for their daily consumption.

The study shows 10.5 per cent often have loans from banks.

Some of the students believe they can use the money they will earn in the future to help realize their current dreams.

And other students use loans to support their basic livings and studies.

A small proportion who pursue fashionable items use loans to purchase high-tech products, books, and goods in fashion.

"An important reason for credit consumption is that university students have relatively higher and ideal expectations for their future and are full of confidence about their ability to repay loans," said Ma.

However, their consumption is restricted by their economic power, although they strongly desire high-end products.

The study shows students who have savings spend more on after-course training and IT or digital products than those who just make ends meet or who are in debt.

"This proves that irrational consumption among undergraduates is not as serious as people always imagine," Ma said.

Many Chinese people believe that university students are always purchasing fashionable goods that are beyond their means.

Another feature of university students shown by the study is that students are becoming more independent these days.

In students' total income, 18 per cent, or 865 yuan (US$104) is earned by themselves through part-time jobs.

Some 70 per cent of the students surveyed have part-time jobs, either teaching or working for companies, to support part of their living expenditure.

"Earning money is not the only purpose for their working. The other important reason is to build up themselves and improve their future competitiveness," the study finds.

University students spend an average 4.3 per cent of their expenditure on high-tech products, despite limited income.

Twenty-seven per cent of the students have personal computers, 19.6 per cent have personal digital aids (PDAs), 11.9 per cent have MP3 music players, and 11.8 per cent have portable CD players.

Expenditure on Internet surfing and mobile telecommunications also reflects current students' pursuit of high-tech products.

About 83 per cent of the students have surfed the Internet this term, though their expenditure on Internet connection, mail box and online games is not huge. It is 66 yuan (US$8) per month.

And more than 60 per cent of the students have mobile phones.

"Brands are important for university students when they choose high-tech products," said Ma.

The study finds students are more loyal to foreign brands than domestic ones.

About half of the surveyed think the most suitable price for a mobile phone is between 1,000 and 2,000 yuan, 85.38 per cent of those who have foreign branded mobile phones are loyal to their products.

On the contrary, among those who have domestic-made mobile phones, 79 per cent prefer foreign brands.

In the quickly-consumed goods category including cosmetics, foods, beverages and sports goods, brand names, as well as suitable prices and product function, are the most important factors influencing students' purchases.

Fashion, attractive packages, and other factors do not have as much influence as people imagine.

However, advertisements have a relatively important influence on their choices, as it does for other consumer groups.

More than 48 per cent of the surveyed believe brands which have advertising promotion are relatively reliable, 49.4 per cent think advertisements are necessary in our daily life, and only 24.6 per cent say watching advertisements is a waste of time.

Sinomonitor ranked the most competitive brands among university students according to the students' preferences, which shows foreign brands are relatively more competitive, especially in high-end consumer goods.

These brands are M-Zone in telecommunication sector, Nokia in mobile phones, Lenovo in personal computers, IBM in laptops, Sony in digital cameras, and Netease as an Internet portal.

And Master Kong, Yili, Huiyuan, Nestle, Pepsi Cola are the most competitive brands in the food and beverage sector. And Little Nurse, Rejoice and Adidas star in cosmetics, shampoo and sports goods.

"As the first study specializing in university students, it is helpful to find out the changes in the values of Chinese students, and the spending trends of China's potential core consumers," Ma said.




| | |
| --- | --- |
| | |
| Bullock gives one million dollars to tsunami relief | |

| | |
| --- | --- |
| | |
| TV presenter Li Xiang marries jewelry bigwig | |

| | |
| --- | --- |
| | |
| Fan Bingbing plays a silm Concubine Yang | |
Today's Top News
Top Life News

Taiwan urged to agree to festival flights




Wen visits miners, vows to curb big accidents




Relief in focus as survival hopes fade




Population to hit 1.3 billion this week




Last year's job market tough nut to crack




Chinese death rises in quake aftermath