Peru orders curfew in siege town
(Agencies)
Updated: 2005-01-04 09:08
The Peruvian government put a southern Andean town under curfew on Monday after launching a military offensive to retake a police station held for three days by ex-soldiers demanding the president's resignation.
The government set a 6-p.m.-to-6-a.m. curfew in the town of Andahuaylas, where it declared a state of emergency on Saturday and sent 1,000 police and troops to restore order.
Former army Maj. Antauro Humala and his 200 "reservists" -- veterans of Peru's wars with Ecuador and leftist rebels in the 1990s -- were still in the police post they seized before dawn on New Year's Day. They also control several nearby blocks.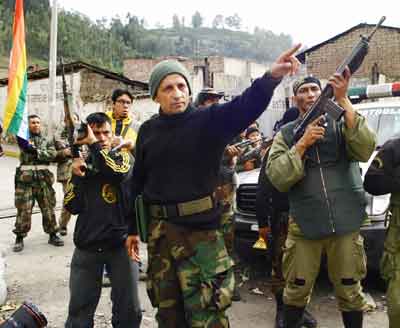 Former Army Major Antauro Humala (2nd L) gives orders to his armed followers as they continue their siege of a police station, in the southern Peru town of Andahuaylas, January 3, 2005. The armed group which took over a police station in southern Peru and killed four officers to demand the resignation of unpopular President Alejandro Toledo will not surrender on Monday as planned, Humala said. Humala, who has been holding ten officers hostage, said the government had broken another of the conditions he laid down for his surrender. [Reuters]

Sporadic gunfire was heard but there was no sign of major troop movement in the farm town 560 miles southeast of Lima since the Interior Ministry said action to reclaim the police post had began around 2 p.m.

Television pictures showed streets largely deserted in heavy rain.

Humala said his supporters had captured five government snipers and a helicopter on Monday. There was no independent confirmation.

"The people are with us," Humala told Reuters.

Cable television station Canal N earlier reported that Peru's police chief, Felix Murazzo, drove to the police station in a government car with white flags on it.

Humala said a truce he had negotiated with Murazzo earlier was shattered by the offensive and one of his men was killed.

His nationalist group -- which says President Alejandro Toledo is corrupt and must quit -- killed four policemen in clashes on Sunday and was still holding 10 police hostages after three days.

Humala said he had freed an 11th police officer on Monday.

"We are people of goodwill, even though today they killed a reservist with a silencer in the middle of a truce. We're handing over seven prisoners, including two of the captured snipers," he told CPN radio.

Humala's group -- which includes seven women -- seized guns, grenades, explosives and 25 vehicles and had pledged to hand them in at midday.

But Humala backtracked, saying the government had broken its promise not to mobilize troops.

Despite a government announcement that an attack was imminent, Humala had earlier walked unarmed to the cathedral in the town's main square at the head of a crowd of several hundred supportive residents with white flags and balloons.

"We want peace," "Humala darling" and "Toledo is a shit," the crowd cried -- highlighting discontent with unemployment and constant corruption scandals 3-1/2 years into the president's 5-year term. Toledo's popularity rating is just 9 percent in polls.

The crowd later carried Humala, clad in a green woolly hat, black sweater and army fatigues, away on their shoulders.

Humala's headline-grabbing action was the latest instance of frustrated Peruvians taking the law into their own hands after a wave of public lynchings last year in Andean towns.

"People may disagree with some of Humala's methods, but the criticism against the frivolous, corrupt political class is there," said Augusto Alvarez, editor of Peru.21 newspaper.

The president, who promised a clean break after a corruption scandal felled President Alberto Fujimori in 2000, has been accused of allowing his sister and supporters to run a purported "forgery factory" to get his party registered for elections. He denies the allegations.

Nevertheless, 19 relations and several officials have been implicated in a stream of influence-peddling affairs, and he replaced seven ministers in scandals in less than a year.

Humala's uprising was his second such venture after he joined his brother, Ollanta, in a failed rebellion in 2000 against Fujimori's government.




Today's Top News
Top World News

Premier Wen visits miners, vows to curb big accidents




Taiwan urged to agree festival flights




Relief in focus as survival hopes fade




Last year's job market tough nut to crack




Chinese death rises in quake aftermath




Rebel attacks kill 17 Iraqi security men