Rebel attacks kill 17 Iraqi security men
(Agencies)
Updated: 2005-01-04 09:06
Insurgents killed 17 Iraqi police and National Guards Monday in a string of bloody ambushes, bombings and suicide attacks aimed at wrecking Iraq's Jan. 30 national election.
Two explosions rocked Baghdad, one of them detonated by a suicide bomber posing as a taxi driver who killed two policemen and a civilian near interim Prime Minister Iyad Allawi's party headquarters.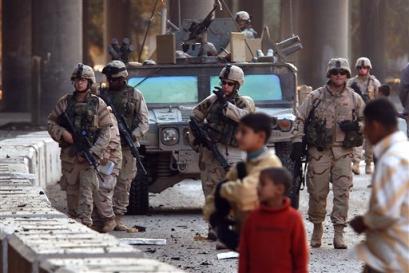 U.S. soldiers secure the main Green Zone checkpoint after a car bombing, in Baghdad, Monday, Jan. 3, 2005. The incident occurred at the U.S.-manned checkpoint to the Green Zone, the heavily fortified area that houses the U.S. Embassy and Iraqi government offices, U.S. Embassy spokesman Bob Callahan said. U.S. troops surrounded a burning SUV at the scene. [AP]
The other deadly attacks were centered in the restive Sunni heartland north of the capital, raising further questions among Iraqis on how the country's fledgling security forces will be able to protect voters if they can hardly protect themselves.
In west Baghdad, an explosives-laden car tried to ram through a checkpoint on a road leading to Allawi's party offices but hit a police pick-up truck and blew up, setting nearby vehicles ablaze and sending up plumes of black smoke.
The Iraqi militant group Army of Ansar al-Sunna, which last week mounted the deadliest suicide attack on Americans since the start of the war with an attack on a U.S. base in Mosul, claimed responsibility for the bombing.
"One of the lions of Islam launched a heroic martyrdom operation on a huge congregation of agent policemen protecting the party headquarters of the apostate Iyad Allawi," the group said in a statement posted on its Web site.
The blast, which also wounded 25 people, came a day after insurgents exposed the vulnerability of Iraq's security services with a suicide bombing that killed 25 National Guards.
The attacks were the latest in a campaign by Sunni rebels trying to drive out U.S.-led forces, cripple the American-backed government and scare voters away from the polls. Iraqi leaders say the insurgents also want to provoke sectarian civil war.
The Al Qaeda Organization of Holy War in Iraq led by Abu Musab al-Zarqawi, behind most of the attacks since the U.S.-led invasion in 2003, has vowed to "slaughter" Iraqis it brands collaborators with foreign occupiers.
Osama bin Laden and Islamist groups have pledged to wreck the vote as part of a holy war.
Monday's first explosion in Baghdad hit a roadblock about a kilometer (half a mile) from the main offices of Allawi's Iraqi National Accord bloc just minutes before the party had been due to hold a news conference to announce its slate of candidates.
ALLAWI SAFE
Aides said Allawi, a secular Shi'ite who heads the interim administration, was safe and had been nowhere near the scene.
"Most of the casualties have been among the security forces manning the checkpoint. No one senior from the Iraqi National Accord was hurt," a senior Iraqi official told Reuters.
Police commanders said the bomber had been driving a taxi, a method used before by insurgents to avoid raising suspicion.
After a loud explosion that rocked the capital, ambulances rushed to the scene, where wounded lay on the ground as police fired warning shots in the air to clear the area.
More attacks followed in rapid succession.
A suicide car bomb killed six National Guards and wounded eight at a checkpoint near an American military base close to Balad, not far from Sunday's even deadlier attack in the north, Iraqi officials said.
Two roadside bomb blasts killed six National Guards and wounded four in Saddam Hussein's home town Tikrit. A policeman was killed near the northern city of Mosul when his patrol set off a booby-trap explosion as it tried to move a decapitated body. Gunmen killed two more officers at a checkpoint in Baiji.
In another attack in the capital, a car bomb exploded close to a four-wheel-drive vehicle of the type used by foreign security contractors and leading Iraqi officials, police and witnesses said. There was no immediate word on casualties.
Bloodshed has been heaviest in areas dominated by Saddam's once-privileged Sunni minority which now faces the prospect of elections cementing the newfound political power of the long- oppressed Shi'ite majority.
U.S. and Iraqi officials ushered in the New Year warning they expected a spike in pre-election assaults by insurgents but pledging to do everything possible to safeguard what they say will be the country's first free elections since the 1950s.
But in a sign that the campaign of intimidation was having an effect, an election organizing committee in the northern city of Baiji quit en masse Sunday after receiving death threats.
Today's Top News
Top World News

Premier Wen visits miners, vows to curb big accidents




Taiwan urged to agree to festival flights




Relief in focus as survival hopes fade




Population to hit 1.3 billion this week




Last year's job market tough nut to crack




Chinese death rises in quake aftermath