Chinese open their wallets to tsunami victims
(China Daily)
Updated: 2005-01-04 08:52
Sri Lanka's Ambassador to China has been speaking of the kindness of two Chinese schoolboys who offered 400 yuan (US$48) for tsunami victims at the country's embassy in Beijing.
"It was really impressive," said Nihal Rodrigo yesterday, who despite acknowledging the amount was not significant, said the intention was priceless.
The two boys had refused to meet the media, he added.
The ambassador said he believed the children had been very touched by what they had seen in the reports.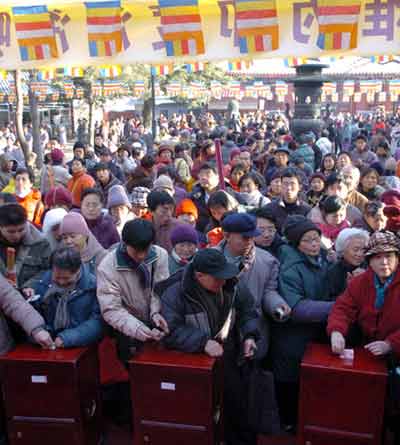 Buddhists make donations at a prayer service in Beijing January 1, 2005. Buddhists from the Chinese mainland and Taiwan have donated a total of 9.93 million yuan (US$1.2 million) in the prayer service to the tsunami-hit countries in Southeast Asia. [Xinhua]

In many ways, large and small, people around China have been opening up their hearts and their wallets for the disaster victims in Sri Lanka and other countries.

Donations from non-government sources -- from business circles and ordinary Chinese -- rose to US$800,000 by Saturday at the Embassy of Sri Lanka.

"We really appreciate the generosity of the Chinese Government and its people," Rodrigo said.

Rodrigo, who was appointed ambassador a year ago, has reasons to be grateful as his own nearest and dearest were spared from the devastation.

But he spoke of the anguish he felt for those who had been affected.

Prayer services for the four major religions of Sri Lanka were held in the embassy last Friday and about 15 Sri Lankan nationals, including students and business people in Beijing, attended. There are no more than 40 Sri Lankans in the capital and nearby areas.

Rodrigo said they were praying for the victims and that survivors would not be further afflicted by disease and be able to recover soon.

A condolence book will be placed in the embassy today for visitors.

Not everyone was as lucky as the ambassador.

Sri Lankan Embassy Finance Officer G. Ernest Gunaruban lost his aunt in the tsunami.

His family is from Batticaloa, known for its legendary "singing fish" and now one of the worst-hit areas in the country.

Gunaruban's mother was in the United States for Christmas and his house, five miles from the coast, survived.

The ambassador said the death toll had reached 35,000 and was climbing.

"Five thousand people are still missing and their chance of surviving is slim," he said.

He said 750,000 people had escaped death but had been left homeless. "They now live in refugee centres, camps, churches or with their relatives," he said.

He said the government's immediate priority was to help these homeless people.

"We have to give them food and we have to deal with the possible spread of epidemics," he said.

Though supplies from various parts of the world have been airlifted to Colombo, the capital of Sri Lanka, the distribution to affected areas needed to be improved, Rodrigo said.

Roads were narrow and damaged and trucks carrying food and other necessary supplies took at least five hours to get from Colombo to Galle, which is around 120 kilometres south of the capital and also one of the worst-hit areas.

"We are hoping to begin the reconstruction work of our homeland by the end of January," he said.

Aid was pouring in, but the ambassador said some was simply not needed -- for instance clothing.

Financial assistance is the fastest and easiest way to help, material help is also welcome and medicine is expected but best discussed with the embassy before despatch, he said.

In the embassy waiting room, a pile of packages waits to be sent, courtesy of Chinese donors. "They will be sent to Sri Lanka soon," said the ambassador.

The Embassy of Sri Lanka is accepting contributions on telephone number: 86-10-65321861 or 86-10-65321862.

Bank: Bank of China Head Office Branch

Beneficiary: Embassy of Sri Lanka

RMB Account: 00220608093001

US$ Account: 00220608093014




Today's Top News
Top China News

Premier Wen visits miners, vows to curb big accidents




Taiwan urged to agree festival flights




Relief in focus as survival hopes fade




Chinese death rises in quake aftermath




Macao doctors join team to provide aid




Expats worry for families, homelands