Chinese death rises in quake aftermath
By Eddie Luk, Huang Zhiling& Cao Desheng (China Daily)
Updated: 2005-01-03 00:44
The deaths of a Taiwanese woman and two Hong Kong residents have added to the Chinese toll in the disaster, bringing the total to 12, according to the Chinese Embassy in Thailand.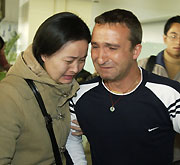 The husband of missing Chinese woman Zhou Jing, who was swept off the beach in Thailand, is greeted by his sister-in-law at Chengdu airport in Sichuan Province on Sunday. Swissman Bebo Geally briefly flew to China to console her parents before returning to Thailand to await news of Zhou. Officials said at least 15 mainlanders are still missing in Thailand. [newsphoto]

They include three from the mainland, three from Taiwan, and six from Hong Kong.

Two Hong Kong residents -- a French infant and 42-year-old Markus Knoesel, a German biology teacher at the Hong Kong-based German Swiss International School -- were confirmed dead yesterday.

Embassy officials from Thailand also said yesterday 15 mainlanders visiting Thailand remained missing. The number of Hong Kong travellers officially classified as missing has increased by 14, bringing the total number of Chinese missing in the affected countries to 74 amid the fears that the number could still climb.

Deputy Secretary for Security Michael Wong said yesterday the number of reported missing cases had risen but it was not clear by how many, as information was incomplete and immigration departments and police officers were still gathering more personal details about people reported missing by their families.

Wong said police had started collecting DNA samples from relatives so the Thai government can establish a DNA database. The DNA samples will be sent to Thailand to help in the identification process.

"We have started collecting DNA samples from 10 families and more will come," he said.

A total of 870 Hong Kong residents were still reportedly stranded in the areas.

The Education and Manpower Bureau yesterday received eight reports of students not showing up for local kindergarten, primary, secondary and international schools after the Christmas and New Year holidays.

A 48-year-old Chinese University lecturer in the department of physics, Lo Yam-kuen, his wife, Chan Man-shih, and their daughter Lo Chi-ping, a student at the Pui Ching Primary School, have been reported missing.

Asenior lecturer in department of biochemistry at the University of Hong Kong, Veronica Lam, is also reported missing. She has worked at the university since 1992.

While the nation prepares more professionals and aid materials for rescue and relief, people from all walks of life across the country have continued to open their wallets and their hearts to the victims.

National defence minister Cao Gangchuan told his counterparts from the affected countries via that his ministry will offer donations for relief and rebuilding.

The Ministry of Civil Affairs has also urged local departments to take part in donation drives.

Film director Feng Xiaogang and 11 other top entertainers kicked off a donation drive in Beijing yesterday. They hope more people in the entertainment business will join in efforts to raise cash. In Hong Kong, relief efforts continued as at least 10 associations from medical and nursing sectors joined to mount a charity walk this Sunday.

Legislator Kwok Ka-ki, one of the charity walk's organizer, estimated yesterday about a thousand of medical, nursing practitioners and citizens would join the walk held at the Peak and at least HK$500,000 would be raised.

Kwok said about 30 doctors signed up to join rescue operations.

The Hospital Authority said doctors working at public hospitals will be given paid holidays for the rescue operation.

The government also said it had raised about HK$33 million with strong support from the community by staging a fund-raising variety show at the Hong Kong Stadium on Saturday.

Director of Home Affairs Pamela Tan urged the public to make donations to help.

So far local aid groups have raised about HK$400 million.

Swiss-Chinese couple

For 37-year-old Swissman Bebo Geally and his 36-year-old Chinese wife Zhou Jing, 10 days in Tahonrk, Thailand, was a chance to relive their meeting there three years ago.

They left Chengdu for Bangkok on December 17, planning to fly to Switzerland 10 days later after celebrating Christmas in the place they fell in love.

Disaster struck when the tsunami swept China International Travel tour guide Zhou Jing and two friends off the beach they were strolling along on December 26.

The two couples had clung to a small tree but only Geally managed to hold on.

Geally, who owns a timber processing plant and real estate firm in Switzerland, searched for his wife for six days without success. He eventually flew back to Chengdu, his wife's home town, to console her parents. He has returned to Thailand, desperate for news.

"I will never give up my efforts to look for Zhou Jing," he said.




Today's Top News
Top China News

Relief in focus as survival hopes fade




Chinese death rises in quake aftermath




Macao doctors join team to provide aid




Wen visits miners, vows to curb big accidents




Expats worry for families, homelands




Ku remembered as 'great man'