Wen visits miners, vows to curb big accidents
(Xinhua)
Updated: 2005-01-03 22:44
Premier Wen Jiabao said during his New Year visit to northwest China's Shaanxi Province that production safety must be improved this year to avoid major mining accidents.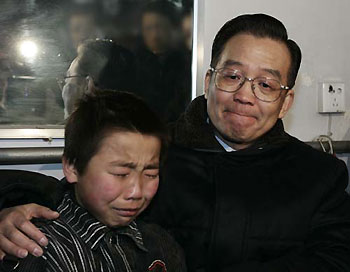 Premier Wen Jiabao consoles the son of former vice-chief-engineer of the col mine on January 2, 2005. His father died in the fatal accident. [Xinhua]

Wen arrived in the Tongchuan Mining Bureau on New Year's Day on a visit to family members of miners who had died in the Chenjiashan Coal Mine gas explosion. In the evening, he called a meeting of local leading officials and experts on improving coal mining safety.

Early Sunday morning, the premier went to the mourning hall of dead miners of the Nov. 28 accident, laid a wreath, stood in silence tribute for a moment and bowed to the dead.

"This accident has taught us a lesson paid for with blood," said Wen, after shaking hands with some family members of the 166 dead miners. "We must pay great attention to production safety and not let such things happen again. We must hold ourselves responsible to the miners, the people and the children."

During his visit to the family of Niu Tieqi, deputy chief engineer of the mine before his death, tears came out of Wen's eyes as he listened to family members recalling memories of Niu.

During this and other visits to families of victims of the accident, Wen asked accompanying local officials to "do whatever you can" to guarantee the basic livelihood of the victims' families and help them to treat their illnesses.

After meeting with rescuers and firefighters of the mine, who saved 127 lives in the accident, the premier took a miners' vehicle and went down to the deep of a shaft of Xiashijie Mine. He extended New Year's greetings to working miners, talked and ate lunch with them.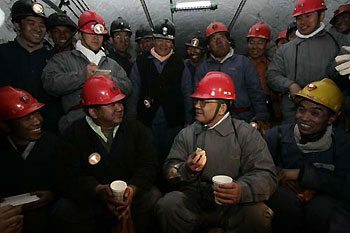 Premier Wen Jiabao has lunch with on-duty miners on the new year's day in the coal mine shaft, about 1,300 meters underground. [Xinhua]

"Coal is the mainstay of China's energy supply," said Wen during his two-hour trip underground. "Miners deserve the attention, respect and care of the whole society."

He said as mining was a high-risk industry, production safety must be guaranteed so that "all miners can return home safe and sound."

As he was about to leave the mining area, Wen urged the local officials to find the cause of the accident and seriously punish the people responsible. He also asked them to take effective measures to improve production safety of coal mines.

China sustained 3,413 coal mining accidents in the first 11 months of 2004, which claimed the lives of 5,286 miners.




Today's Top News
Top China News

Taiwan urged to agree to festival flights




Wen visits miners, vows to curb big accidents




Relief in focus as survival hopes fade




Population to hit 1.3 billion this week




Last year's job market tough nut to crack




Chinese death rises in quake aftermath