Expats worry for families, homelands
By Raymond Zhou (China Daily)
Updated: 2005-01-03 22:42
Bhemrao Satish had been in China for only a month when last week he was hit by the devastating news that his hometown was stricken by a killer tsunami.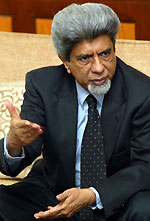 Sri Lanka's Ambassador Nihal Rodrigo to China talks about tsunami-ravaged areas of his country as he was interviewed by a China Daily reporter. [newsphoto]

The 33-year-old manager works at Indian Kitchen, an Indian restaurant located in the Chaoyang District of Beijing.

His hometown, the State of Tamilnadu, has racked up a death toll of more than 8,000 people, he said. Fortunately, his family was not among the victims.

"Within one hour of the tragedy, my family reached me by phone and I've been calling them ever since," he said.

Satish told China Daily that his hometown has a mixture of religions, including Hindus and Christians. People in his hometown cancelled their New Year's celebrations to grieve for the lost.

In China, for Satish and other South Asians and Southeast Asians, "there has been a lot of praying,"he said.

"We pray that more families would be spared the anguish and grief, and we pray for the souls of the dead."

Silent murmurs of prayers and quiet words of consolation have the predominant forms of expression and communication at the small Southeastern Asian communities in China. Many of these expats toil in ethnic restaurants that dot China's metropolises.

Since the disaster affected small and isolated coastal areas of these countries, most of the Southeastern Asian residents in China were spared the agony of losing family members. Still, it is painful to see television reports or read of the thousands of lives lost in home countries.

Ani's home is two thousand kilometres away from the Indonesian area most affected by the tsunami. The 20-ish chef at Shenzhen's Bali House does not read either Chinese or English. He had to talk to China Daily through Wei, the restaurant owner.

Ani says he is grateful the Chinese people have showed so much sympathy and support for his country. He makes occasional calls home to get himself updated on the situation, and he appreciates all the donations his Shenzhen coworkers have chipped in.

The small Indian community, of which Satish has just become a part, is more active. "We are planning a donation drive to collect some money for the victims in India," he said.

When talking about the outpouring of cash and support from ordinary Chinese, Satish could not contain his gratitude.

"I'm so happy about the wonderful response the Chinese people have shown," he said.

Amthan Phuphani is treated as if he is a family member by his boss, even so far away from home. "The wife of my boss is Thai and a fellow Buddhist," he said "And she leads us in daily prayer for all the people who have suffered in the catastrophe."

The 55-year-old chef at Borom Piman, a Thai restaurant in Beijing's Holiday Inn Lido, is a new arrival. Even though his family is in northern Thailand, far from coastal Phuket, he is still fixated on the latest news from his country.

Through a colleague, he told China Daily that his anxiety and homesickness are eased by his thoughtful coworkers, and by his religious faith. There is also the knowledge that so many people in China care about the suffering of his countrymen.

"It has made me feel so much better," he said.




Today's Top News
Top China News

88 laws, regulations take effect on New Year's Day




Premier Wen to join tsunami summit




Death toll reaches 95,000 in Indonesia




Beijing plans charter flights across Straits




Forty percent of workers work as freelancers




Canada confirms second case of mad cow