Elephants help clear debris in Thailand
(Agencies)
Updated: 2005-01-03 21:50
BANG NIENG, Thailand - A year ago, they were filming battle scenes for the movie "Alexander." Now six elephants are pitching in to help with the massive cleanup from the tsunami that devastated many of Thailand's prime tourist destinations.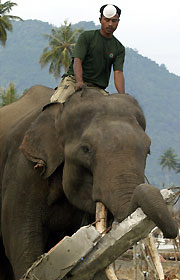 An elephant named Medang clears the debris of houses damaged by the tsunami disaster to make a path for vehicles in Indonesia's tsunami-hit city of Banda Aceh January 3, 2005. [Reuters]

The massive waves, which killed 5,000 and left nearly 4,000 missing in Thailand, dumped debris more than a mile from the popular beaches of Phuket island and Phang Nga province a week ago. While heavy machinery works on the tangled wreckage that used to be posh seafront resorts, some areas are too muddy or hilly for anything other than 4 foot drive.

So the Wang Chang elephant farm in the 17th-century Thai capital of Ayuddhaya offered to send in its best pachyderms. They arrived by truck Sunday in Phang Nga and got to work immediately — after a quick shower to cool off in the tropical heat.

"The six were chosen because they are smart and can act on command," said Romthongsai Meephan, one of the elephant farm's owners.

The elephants, all males, were cast with Colin Farrell and Angelina Jolie in "Alexander," recreating their ancient roles as battle tanks. Today, they mostly entertain tourists and give them tours around Ayuddhaya, but they also are experienced at dragging logs through forests.

"They will be assigned to work in towing heavy objects and pulling out debris," said Siriphong Leeprasit, a district official in Phang Nga. "Elephants could work better in pulling out the remains of collapsed buildings and houses, especially in areas flooded with mud or hilly areas."

In Indonesia, another 11 elephants — native to badly hit Sumatra island — have been pressed into similar duty because there were few trucks and other heavy equipment to do the job there. A TV report showed them pulling a sport utility vehicle from a collapsed building.

Cranes and backhoes have been used to open routes to areas cut off in Thailand, but many local residents have complained that assistance has been slow to arrive and some areas have still not been accessed, particularly near Khao Lak beach, another hard-hit tourist zone about 50 miles north of Phuket.

So two of the elephants headed into a rough forested road that was blocked by uprooted palm trees, cement utility poles, cars, motorbikes and TV sets. A gray police patrol boat had washed up on a hill, more than a mile from the beach. The receding waters left behind two murky saltwater lakes.

The beasts were watered down by their trainers, called mahouts, then began using their trunks and tusks to clear the road. One mahout clambered aboard each elephant, with two others on the ground leading them.

The animals made quick work of huge muddy clumps of plant material and didn't need much more time to handle the heavy utility pylons. Then, after a little lunch, they were ready to start the next task.




Today's Top News
Top World News

88 laws, regulations take effect on New Year's Day




Premier Wen to join tsunami summit




Death toll reaches 95,000 in Indonesia




Beijing plans charter flights across Straits




Forty percent of workers work as freelancers




Canada confirms second case of mad cow