Eight days on, ailing tsunami survivors await aid
(Agencies)
Updated: 2005-01-03 20:14
BANDA ACEH, Indonesia - Eight days after a giant tsunami struck Asia, relief workers faced "absolute chaos" in Indonesia's Aceh province on Monday as a $2 billion operation to help disaster victims fought to get off the ground.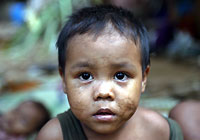 Four-year-old Valentine, a Nicobari tribal boy, sits inside a relief camp in India's remote Car Nicobar island January 2, 2005. Eight days on, hungry and sick survivors of the Indian Ocean tsunami are waiting for food and medicine in growing desperation as a multinational aid operation tries to reach remote towns ravaged by the waves. [Reuters]

Aid workers struggled to help thousands huddled in makeshift camps in the province in northern Sumatra where two thirds of the 144,000 killed across the region died, and to reach remote areas after roads and airstrips were washed away.

U.S. helicopters began shuttling injured refugees, many of them children, out of some of the worst hit parts of Aceh.

The pilots skimmed low over flattened villages and jungle looking for signs of life, touching down briefly to collect the badly injured and fling out packages of food and water.

"They were ecstatic as we flew in. They were blowing us kisses," Sea Hawk pilot Lieutenant Commander Joel Moss from the carrier USS Abraham Lincoln told Reuters.

"All the villagers started coming out of the woodwork, telling us they needed help. They said there were a lot more wounded people further inland up in the mountains," he said.

Pilots described columns of refugees trudging up the coast toward the provincial capital, Banda Aceh, while others were camped out above the high-water line.

Across southern Asia logjams began to ease at airports bursting with hundreds of tons of emergency supplies but relief workers faced a logistical nightmare in distributing them.

"It's absolute chaos," said Titon Mitra of CARE International, which is running 14 survivor camps in Aceh.

The same bleak picture faced aid workers in Sri Lanka, the second worst-hit nation with nearly 30,000 dead, said Margareta Wahlstrom, United Nations special envoy for tsunami relief.

The U.N. said 1.8 million survivors needed food in tsunami-hit areas but the world's response in money and resources gave grounds for hope as dehydration, disease and hunger threatened to add to the already huge death toll.

World Bank president James Wolfensohn said his agency could double or triple the $250 million it has promised for regional reconstruction, and would also be looking at debt relief for the poor nations worst affected by the disaster.

"The international system is working," U.N. Emergency Relief Coordinator Jan Egeland said in New York.

Hundreds of fresh foreign troops poured into Aceh in a race to stop the outbreak of killer diseases among survivors of the tsunami, triggered by a huge earthquake off Sumatra on Dec. 26.


PNEUMONIA DEATHS

UNICEF said it had reports of children dying of pneumonia in Aceh. Many in refugee camps were sick from a variety of ailments, as well as terrible wounds sustained when the tsunami hit.

In Banda Aceh and other towns, thousands of rotten corpses still lay in the streets. A Health Ministry official said he had no reports of a cholera outbreak, but the risk was very high.

Affected nations, working with aid agencies, private relief groups and donor governments, have eased some transport bottlenecks, improving capacity to get in goods on a daily basis to serve the estimated 5 million requiring some form of aid.

Logistics centers were operating in Rome, Jakarta and Sumatra, the U.N.'s Egeland said, and a command-and-control center at Thailand's U-Tapao military air base was coordinating all the civil and military flights involved in the relief effort.

Singapore said a landing craft with 400 military personnel and heavy equipment had landed at Meulaboh, a city on Aceh's west coast where it is feared one third of the population, as many as 40,000 people, may have perished.

Germany army colonel Jurgen Canders arrived in Banda Aceh on Monday with a nine-member medical unit. He said the team included tropical disease and public health specialists, and its mobile capability would allow them to conduct surgery in remote areas.

Topping needs on a regional level was water and sanitation equipment to head off expected outbreaks of water-borne infections, spread through tainted community water supplies. U.N. health officials say disease could kill maybe 50,000.

More than 100,000 people are living in temporary shelters and camps in Indonesia alone, many suffering from diarrhea, fever, respiratory infections, headaches and stomach problems.

TOO MUCH PEPPER

In Sri Lanka, aid officials said that while supplies were now pouring in, some well-intentioned donors were clogging up the distribution network with unnecessary items.

"We have bags and bags of pepper, for example, which simply isn't a necessity and is taking up space," said John Carlton of ActionFast.

India's toll of dead and feared dead passed 15,000. Tempers flared in the remote Andaman and Nicobar islands, where access was still restricted while hundreds of bodies rotted in the sun.

Secretary of State Colin Powell and Jeb Bush, the American president's brother, headed to the region to help assess reconstruction needs. One U.S. senator said Washington may eventually spend billions of dollars helping Asia recover.

An aid conference called in Jakarta for Thursday was starting to draw leaders from around the world including Chinese Premier Wen Jiabao and U.N. Secretary-General Kofi Annan, who was expected to appeal for more relief.

In Thailand, where the known death toll is close to 5,000, teams searching for bodies zeroed in on the hardest hit areas as Thai and Japanese navy ships scoured the seas for more dead.

Rescue teams expected to finish clearing bodies from Phi Phi island, famous for the film "The Beach," after retrieving 50-60 decomposing corpses on Sunday, Interior Minister Bhokin Bhalakula told reporters. They would now concentrate on devastated areas of Phang Nga province north of Phuket island.

Prime Minister Thaksin Shinawatra's government focused on rebuilding Thailand's lucrative tourist trade. Investment bank JP Morgan said some of its prime tourist areas had been devastated, and forecast the economy would see no growth in the first quarter of 2005, against an earlier predicted 3 percent rise.

Nearly 4,000 people are still missing in Thailand, including more than 1,600 foreigners, many of them Scandinavians.




Today's Top News
Top World News

88 laws, regulations take effect on New Year's Day




Premier Wen to join tsunami summit




Death toll reaches 95,000 in Indonesia




Beijing plans charter flights across Straits




Forty percent of workers work as freelancers




Canada confirms second case of mad cow