Premier Wen to join tsunami summit
By Qin Jize, Joseph Li (China Daily)
Updated: 2005-01-03 08:33
Premier Wen Jiabao will fly to Indonesia for an emergency tsunami summit on Thursday as the nation adds government aid and folk donations.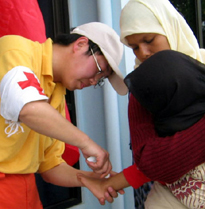 Yu Tao, a Chinese rescuer, treats a 2-year-old Indonesian girl's foot and ankle injuries in Banda Aceh, capital of Aceh Province Sunday. [Xinhua]

Wen will attend a summit organized by the 10-member Association of Southeast Asian Nations (ASEAN). More than 20 heads of state or government and representatives of international organizations will also be in attendance to discuss the aid efforts to help Asia's quake-tsunami-hit countries.

"Regional co-operation on disaster prevention will also top the agenda," said a Foreign Ministry spokesman.

At least nine Chinese nationals have been confirmed dead in the disaster.

The death toll from last week's earthquake and tsunami stood last night at 130,000, including 2,500 foreigners. In addition 7,000 other foreigners were missing.

Hu: Any aid in power

President Hu Jintao said over the weekend that the Chinese Government is willing to provide "any possible aid in its power to those in need." Hu expressed his sincere sympathy to the countries that have lost so much in the tsunami.

"China sincerely wishes its neighbouring countries would conquer the natural disaster and soon rebuild their homeland," Hu said at a meeting of the National Committee of the Chinese People's Political Consultative Conference on Saturday.

China had yesterday raised an estimated US$65.3 million in government, charitable and public donations. The number will rise as more organizations report figures.

The government increased its aid by an additional 500 million yuan (US$60.46 million) of humanitarian aid to the tsunami-hit countries on Friday.

Chinese residents have been queuing to donate money to help survivors of the Christmas tsunami rebuild their lives and stave off the threat of disease.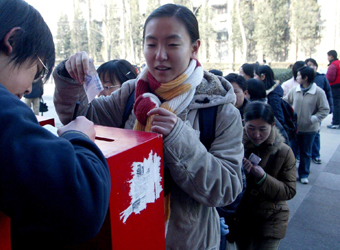 Peking University student An Yingzhi makes a donation to tsunami-hit nations at her campus yesterday as did hundreds of other students and teachers. During the New Year holiday, people across China have been digging deep to help their fellow human beings in vital need of aid. [newsphoto]


Another 14 medical experts left Beijing for Sri Lanka - the third medical team sent by China to the affected countries.

"Relief goods and spot-exchange for other countries will arrive at their destinations within a few days," said Wang Hanjiang, an official with the Ministry of Commerce.

Foreign Minister Li Zhaoxing said the first batch of aid worth 21.63 million yuan (US$2.6 million) had all been transported to the affected areas.

The Ministry of Commerce would be responsible for the manoeuvre of aid while the Ministry of Civil Affairs would co-ordinate the collecting of donations from non-governmental organizations and the public.

Li, Annan and Lee

Li discussed by telephone the best way the country can offer its aid with Secretary General of United Nations (UN) Kofi Annan and World Health Organization (WHO) Director General Lee Jong-wook.

Li told them of the aid pledged by the Chinese Government, saying China "appreciates and supports" the leading and co-ordinating role of the UN in the disaster.

He expressed China's desire to "strengthen the co-operation with UN and WHO by helping rescue survivors, prevent disease and supply clean water and reconstruct homes."

Annan and Lee praised China for its "positive role in helping the affected countries," appreciating China's timely and substantial assistance for the nations.

China's religious organizations are also working hard to help victims.

On New Year's Day, the Buddhist Association of China invited thousands of monks from various parts of China, including Taiwan Province, to a service in western Beijing to pray for an end to natural disasters.

In under an hour , the gathering donated 9.93 million yuan (US$1.2 million) for the victims of the disaster. The money was handed to the Red Cross Society of China for immediate use.

More special prayer services for victims by other religious organizations are expected to be held in the coming few days.

The All-China Youth Federation, China Youth Development Foundation and younger members of the public have raised 1 million yuan (US$120,919) for their peers in affected countries.

The All-China Federation of Trade Unions expressed their sympathy and to the workers of the disaster-hit countries through a donation of 3 million yuan (US$362,757), and called on all the trade unions around the world to jointly help to overcome the natural disaster and help rebuild lives.

Chinese people are mounting relief efforts in the aftermath of the tsunami disaster in responding to the plea by the Red Cross Society of China and the China Charity Federation is co-ordinating the public donation drive.

By yesterday, the headquarters of Red Cross Society of China alone has received donations of more than 20 million yuan (US$2.4 million).

Its branch in Guangzhou, South China's Guangdong Province, saw a donation of more than 3 million yuan (US$362,757) by yesterday.

The China Charity Federation has received a donation of more than 200,000 yuan (US$24,184) from the public so far.

On Thursday, the association will donate no less than HK$300,000 to the Red Cross. They would raise more money if necessary, said its president Jose Yu.

Kevin Chiu, chief executive officer of World Vision Hong Kong, said the Hong Kong branch has so far raised more than HK$50 million, of which HK$7 million come from the SAR government.




Today's Top News
Top China News

88 laws, regulations take effect




Premier Wen to join tsunami summit




Nine Chinese perish in tsunami




Beijing plans charter flights across Straits




HK citizens march for social stability




Canada confirms second case of mad cow