Abbas vows to protect Palestinian gunmen
(Agencies)
Updated: 2005-01-02 08:53
Palestinian leader Mahmoud Abbas said in an Associated Press interview Saturday that he wants to protect militants from Israel, rejecting Israeli demands that he crack down on them.
It was his latest campaign gesture to court gunmen seen by many Palestinians as resistance heroes and by Israel as terrorists.
Also Saturday, Israeli aircraft fired a missile at group of militants in Khan Younis in southern Gaza Strip. There was no immediate word on casualties or other details. Israeli troops have been operating in the area in recent weeks, trying to halt mortar attacks launched from the area on nearby Jewish settlements.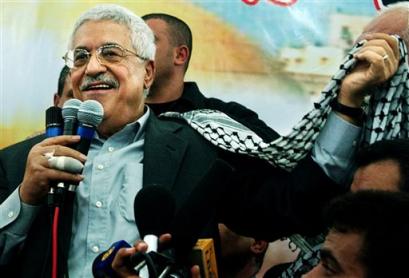 Interim Palestinian leader and presidential front-runner Mahmoud Abbas holds a kaffiyah, or traditional Arab headdress, while speaking to supporters during a campaign rally in the Rafah refugee camp, southern Gaza Strip, Saturday, Jan. 1, 2005. Palestinians will go to the polls in elections Jan. 9 to choose a successor to their late leader Yasser Arafat. [AP]

In the interview, Abbas defended a series of recent public appearances with gunmen and indicated he has no such plans, saying the Palestinian leadership has a responsibility to protect its people.

"When we see them, when we meet them, and when they welcome us, we owe them," Abbas said. "This debt always is to protect them from assassination, to protect them from killing, and all these things they are subject to by the Israelis."

Abbas spoke to the AP in his Gaza City office hours after he was warmly welcomed by dozens of Palestinian gunmen in the Rafah refugee camp, a frequent flashpoint of Israeli-Palestinian fighting.

The rally, in which he praised Palestinian fugitives wanted by Israel as heroes, was the latest in a series of public appearances alongside gunmen.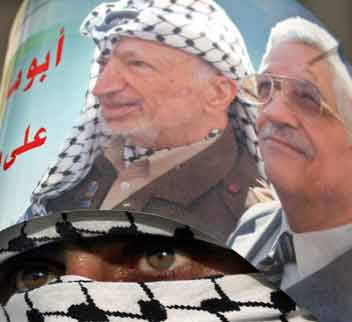 A masked Palestinian Fatah member wears an elections poster for Palestinian presidential candidate Mahmoud Abbas during during a 40th anniversary rally for the Fatah movement in the village of Yetma, near the West Bank city of Nablus January 1, 2005. Palestinians go to the polls on January 9 to choose a successor to the late Yasser Arafat. [Reuters]

Abbas' aides have described the campaign stops as election politics. Abbas, who has criticized violence and favors a negotiated peace settlement with Israel, will need to rally the young gunmen behind him to push forward with his agenda after the Jan. 9 election. Abbas is widely expected to win the vote.

But his campaign tactics have raised concerns in Israel about his commitment to peace. Israel refused to negotiate with longtime Palestinian leader Yasser Arafat, who died Nov. 11, accusing him of backing terrorism.

"We will see how he acts when he is elected, whether he will follow the path of terrorism like Arafat or not," a senior Israeli official said, speaking on condition of anonymity.

In the interview, Abbas made no mention of a crackdown. But he said the armed militants are ready "to live within the society" if they are granted peace and security. "To remain wanted here and there, this is something no one could accept."

He also said that Israel's planned withdrawal from the Gaza Strip is "unacceptable" and demanded a resumption of peace talks based on the internationally backed "road map" peace plan.

"There is a Palestinian partner, and there always will be a Palestinian partner who is going to practice his right to negotiate and speak on behalf of the Palestinian people," he said.

Israeli Prime Minister Ariel Sharon initially envisioned the Gaza withdrawal, which is scheduled to begin next summer, as a unilateral act. But he has said he would coordinate the pullout with the new Palestinian leadership if it acts against armed militants after the election.

Abbas called for a comprehensive solution of the conflict, including an end to Israel's control of the West Bank, Gaza Strip and east Jerusalem, and a fair resolution for hundreds of thousands of Palestinian refugees.

"We should bring all of these subjects to the table in order to reach a final settlement," he said.

In Rafah, Abbas received a warm welcome from tens of thousands of residents.

When his convoy arrived, several hundred gunmen stopped his vehicle to greet their leader. Abbas got out of his car and waved to the ecstatic crowd.

The gunmen, members of the Al Aqsa Martyrs' Brigades, a violent group with ties to Abbas' ruling Fatah party, placed a black baseball cap on his head and briefly hoisted him on their shoulders. Chanting pro-Abbas slogans, they escorted him through the noisy crowd before he headed indoors to deliver a speech.

Abbas' speech, marking the 40th anniversary of the founding of Fatah, included numerous gestures toward the militants.

Abbas repeatedly praised Arafat, hailed Palestinians killed in fighting with Israel and described fugitive militants on Israel's most-wanted list as heroes.

"We will not forget those wanted by Israel. These are the heroes that are fighting for freedom," he said.

The large crowd chanted pro-Abbas slogans, and the hall became so crowded that Abbas had to exit through a window.

Palestinian analysts have said Abbas, who lacks the popularity of Arafat, needs to toughen his staid image to win support from young Palestinians caught up in the struggle against Israel.

Ahmed Subah, an aide to Abbas, said in a recent interview that the candidate's "real" agenda is "ending the Israeli occupation through peaceful negotiations, attaining security for Palestinian citizens and achieving reform and development."

Through his outreach to the al-Aqsa militants, Abbas is signaling that he wants to co-opt them, not confront them as Israel and the United States have demanded.

Abbas must also figure out how to work with Hamas, the largest Palestinian opposition group. Hamas, which has carried out dozens of suicide bombings, is boycotting the election, although it has said it will honor the results.

In the West Bank town of Ramallah, more than 2,000 people took part in a Fatah anniversary celebration. Dozens of gunmen joined the march, occasionally firing into the air and sending people running for cover.

Also Saturday, a 10-year-old Palestinian girl was killed when a Palestinian rocket veered off course and ripped through her home in the Jebaliya refugee camp in northern Gaza, residents said.

The Israeli army said there were no troops in the area at the time. It said that militants fired nine homemade rockets into southern Israel and 15 mortars at settlements in the Gaza Strip since Friday. No injuries were reported.




Today's Top News
Top World News

Tsunami donation drive in full gear in China




Hu: China tolerates no attempt to split Taiwan




Tsunami aid lands for survivors, unborns




US barred from limiting China textiles




Russia orders oil pipeline to Pacific




Yanukovych resigns, vows to keep fighting