WHO: Diseases threaten tsunami survivors
(Agencies)
Updated: 2005-01-02 00:22
The first signs of potentially deadly diseases are threatening survivors in areas hit by killer tidal waves in Asia, the World Health Organisation said.
"There are increasing reports of diarrhoeal disease outbreaks coming from displaced persons' settlements in Sri Lanka, in India," David Nabarro, the top official at the Geneva-based WHO dealing with humanitarian crises, told reporters.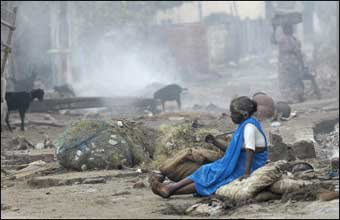 An elderly Indian woman sits in the rubble of the fishing colony of Akkrapattai in Nagapattinam some 350 kms south of Madras. The first outbreaks of communicable diseases are now being seen in areas hit by the killer tidal waves in Asia, a senior World Health Organisation (WHO) official said. [AFP]

However he said these initial signs were not cause for alarm, though preventive measures and treatments must continue.

"They are not causing us alarm because we expect this," he said.

"What we need to do is to make sure that we continue to distribute all rehydration salts and treatment for diarrhea and we continue to do our work in sanitation and water supplies," Nabarro added.

On Saturday the death toll from the catastrophe was edging towards 126,000 but the United Nations has warned that the numbers killed by the wall of water could rise to 150,000.

"At the moment, the international operation is incredibly strong and it's getting relief to airports, to depots at district level and we have distribution starting and pretty well going in much of Sri Lanka," Nabarro said.

But he added: "It needs a few more days before we can state that we are confident that we've been able to avoid major outbreaks of disease."

On Tuesday, Nabarro had warned that disease could kill as many people in devastated areas as the tidal waves themselves unless emergency aid reached the region within weeks.

But he highlighted to reporters on Saturday that these comments were made when the death toll was less than 50,000. The United Nations now fears that 150,000 may have died.

"With approximately five million people in need of relief, a potential death total of 50,000 due to diarrhea and other disease is not at all unreasonable," Nabarro said.

"We see this kind of death rates in humanitarian emergencies on which we are working elsewhere. But I think 130,000, 140,000, no."

He said the distribution of medicines had not begun in Indonesia due to lack of storage to protect medical drugs from the rains but should be able to start in a day or two after temporary warehouses have been set up.

"Aceh (on the Indonesian island of Sumatra) has been more difficult to get into than Sri Lanka, so the Aceh operation is currently about two or three days behind the Sri Lanka operation," he said.

Nabarro earlier held talks here with Mars di Bartolomeo, Luxembourg's health minister whose country took over the EU presidency on Saturday, and highlighted that airports in the region especially in Aceh were threatened by congestion from the arrival of aid.

The logistical problems demanded greater coordination efforts by the United Nations, he said.




Today's Top News
Top World News

Hu: China tolerates no attempt to split Taiwan




Tsunami donation drive in full gear in China




Tsunami aid lands for survivors, unborns




Japan pledges $500 million in tsunami aid




US barred from limiting China textiles




Russia orders oil pipeline to Pacific