Tsunami donation drive in full gear in China
(Xinhua)
Updated: 2005-01-01 22:48
Bombarded with devastating TV pictures on tsunami-ravaged South and Southeast Asian countries and a rising death toll, Zhou Jin, 78, an average Chinese in Beijing, rushed to a local donation center Saturday and left 1,800 yuan (about US$217).
"I am too old to have much expenditure. Here is the cash I have with me. Take it and make use of it for the needy there," Zhou told civil affair officer Zhang Ye.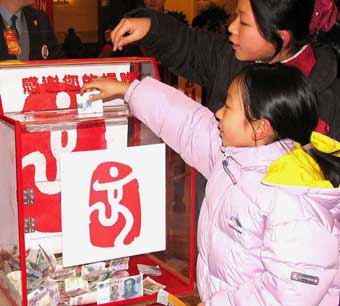 Two girls donate their pocket money for the Indian Ocean tsunami victims during a New Year concert in the Great Hall of the People in Beijing on December 31, 2004. [Xinhua]

When asked about why she gave away all her cash, Zhou said she was not fishing for name. "The catastrophe has made me in low spirits for so many days. I wish I could do something and here comes the chance," she said.

Since the donation center in the Yuetan neighborhood was set upon Friday morning, more than 13,000 yuan (about US$1,567) have been received. Many of the donors are the retired who happened to pass by the center while shopping and exercising.

An old lady in a gray overcoat with a shopping basket in hand said, "Why don't you advise us about the donation drive before hand? If I didn't come by, I'd have missed the chance."

Zhang Ye, who's in charge of the civil affairs of the Yuetan neighborhood, apologized to her, saying this donation drive was indeed started in a rush.

"We didn't knock people's doors to mobilize them, not even print flyers or posters. We wish people could come at their own will and it turns out to be pretty encouraging," she said.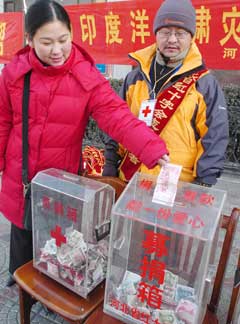 A young woman makes a donation for the tsunami victims at the railway station in Shijiazhuang, Hebei Province January 1, 2005. [Xinhua]

Earlier in 2004, two donation drives were officially launched in the neighborhood, to help poverty-stricken mothers and people who get injured while rescuing others separately. To encourage people to open up their purses, local civil affairs officials and volunteers spent at least two days to spread flyers and mobilize before the drives were formally kicked off.

"This time, we don't want to be pushy, but people constantly come and give whatever they can afford. This is very impressive," Zhang said.

According to the Friday forecast of the United Nations, the death toll in tsunamis of the Indian Ocean is approaching 150,000.So far, a total of 124,000 proven deaths have been reported from Indonesia, Thailand, Sri Lanka, Myanmar, Bangladesh, Maldives and other countries. Four Chinese were confirmed dead and another 290,missing.

Faced with the calamity, Chinese from all walks of life have acted voluntarily to help people thousands of miles away. So far, the All-China Youth Federation and the Chinese Juveniles Development Foundation have donated 1 million yuan (about US$120,482) to young people in disaster-hit areas, while the All-China Federation of Trade Unions have sent over 3 million yuan (US$361,447) to union organizations in tsunami-ravaged countries.

China's electronic manufacturer TCL group donated another 3 million yuan through the China Red Cross Society while the Huawei Company gave Thailand, Sri Lanka, Indonesia and Bangladesh each communication equipment worth US$500,000 to support their post-disaster construction.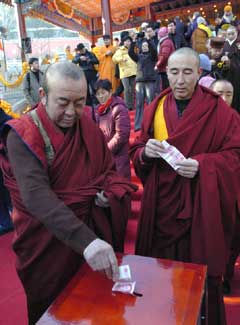 Buddhist monks donate money a a prayer service in Beijing on January 1, 2005. About 1,000 monks from across the country and kindhearted people donated 9.93 million yuan (US$1.2 million) for the tsunami victims. [Xinhua]

Buddhists from the Chinese mainland and Taiwan have donated a total of 9.93 million yuan (US$1.2 million) in a prayer service in Beijing on Saturday to the tsunami-hit countries in Southeast Asia.

The Shaolin Temple, a famous Buddhism temple in central China's Henan Province, also donated 400,000 yuan to the tsunami-hit countries through the Buddhism Association of China.

Wang Xiaohua who heads the Pubic Relations Department of the China Red Cross Society said the Chinese people are very active to join in this donation drive targeting foreign needy.

"They just call in one after another," he said.

Since the society opened its telephone hotline 010-65139999 on Thursday, more than 500 people have called in, expressing their willingness to help. The China Red Cross Society already donated US$660,000 through the International Red Cross Society andrelevant organizations in disaster-hit countries.

"This is not the first time that Chinese voluntarily donated for overseas people. They made the same efforts during the Africanfamine in the 1980s and the later wars in Afghanistan and Iraq. But this one definitely involves more people and a greater passion," he said.

Second aid shipment to be sent Sunday

China will carry out its second batch of humanitarian aid to the tsunami-hit countries on Jan. 2, the Foreign Ministry said Saturday.

Foreign Minister Li Zhaox ing presided over a meeting Saturday with officials from other ministries on the assistance work to thecountries suffered from last Sunday's earthquake-triggered tsunami.

The meeting said the first batch of spot exchange and relief supplies had already arrived in relevant countries. The additional500 million yuan (60.46 million US dollars) in humanitarian aid which Premier Wen Jiabao announced to offer for the earthquake- and tsunami-hit countries will be carried out "orderly according to their requirement."

The Ministry of Commerce will be responsible for allocating relief supplies, while the Ministry of Civil Affairs will deliver in time the donation of Chinese non-governmental organizations andpeople to the correlated organizations of the disaster countries such as the Red Cross.

A new medical treatment team which is set up by the Ministry ofHealth and some other experts dispatched by relevant departments have been packed up and ready to set out.


Chinese quake rescue team arrives in Banda Aceh

A 35-member Chinese rescue team arrived late Friday in Banda Aceh, the capital of Acehthat was devastated when an off-shore earthquake triggered massive tsunamis on Sunday.

The team arrived in Medan, capital of North Sumatra early Friday, and rushed to the worst-hit Aceh Province later in the day.

Chinese Premier Wen Jiabao announced on Friday that his countrywill offer an additional 500 million yuan (60.46 million US dollars) in humanitarian aid to the earthquake- and tsunami-hit countries.

Shortly after the catastrophe, the Chinese government offered 21.63 million yuan (2.62 million dollars) in aid for the tsunami-hit countries.

Indonesia is the country worst affected by Sunday's huge earthquake off its western Sumatra island and the tidal waves it spawned, accounting for more than two-thirds of the dead.

Indonesian Health Minister Siti Fadilah Supari said Friday her officials had stopped trying to count the dead and would from now on give only general casualty estimates since the death toll was too large to provide an exact tally, the state Antara news agency said.

The ministry said earlier that the final casualty number would likely reach up to 100,000. Its last confirmed figure was 79,940.

Beijing emergency medical team heads for Sri Lanka


A team of 14 doctors sent by China left Beijing Sunday noon for Sri Lanka to offer medical aid for the tsunami victims there.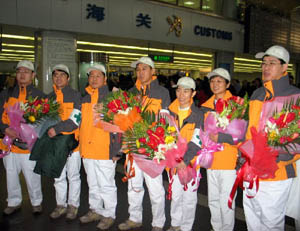 The team is ready for relief mission. [Xinhua]
The team is the third one sent by China after two medical teams from Shanghai and Guangdong, according to Beijing Municipal Health Department.
The team is composed of medical workers from Beijing Municipal Center for Disease Control and Prevention and Beijing Friendship Hospital, including experts on epidemics, internal medicine and orthopaedics.
Some have participated in international medical aid teams in Africa and some have had experience in fighting severe acute respiratory syndrome, or SARS.
"We will work hard to relieve pains of the tsunami-hit victims and extend Beijing people's care for them," said Wang Bingqiang, an expert of orthopaedics and head of the medical team.
They have been equipped with sufficient medicines and medical appliances to provide medical service on arrival, said Jin Dapeng, director of Beijing Municipal Health Bureau.
The medical team left Beijing at around 1:00 p.m., and is expected to arrive in Sri Lanka Sunday night.
Another medical team is expected to leave Beijing two days later, according to Beijing Municipal Health Bureau.
Today's Top News
Top China News

Tsunami donation drive in full gear in China




Hu: China tolerates no attempt to split Taiwan




Tsunami aid now $2B; new floods hit Asia




88 laws, regulations take effect




HK citizens march for social stability




Chinese celebrate New Year